4th Jan 2019
Support PopUp Form & Floating Chat Icon on all websites
PopUp Form and Floating Chat Icon on normal webpages
In addition to existing PopUp Form & Floating chat Icon on WordPress websites, we have supported PopUp Form & Floating chat Icon on any normal webpages. A new setup admin settings allows administrator to generate the HTML codes for the chat room.  When you build your webpages, you just need to paste such HTML codes inside <body> tag. The webpages will then be empowered immediately with Floating chat icon with PopUp either Contact Form, Direct Voice and Video chats.
In other words, 2ConnectMe is able to support PopUp Form & Icon on Shopify and any other frameworks. We have detail example to show such integration on Shopify.
With that floating icon installed on webpages, all the advanced features, e.g. SEE Customer Screen, Auto Whisper Text, Customer Browser History, Proactively Initiating Chats, all become available to any websites regardless of frameworks.
Setup of Html codes for each of chat room.
30th November 2018
Enhancements on Contact Form & Customisations of Customer Phone
Agent Role on Customer Phone
Agent role is the description shown on the customer phone while customer is waiting for agent to answer. The default is name "Agent". In this release, this name can be modified according to your business needs of this chat room. For example, it can be "Doctor", "Teacher", "Tutor" or any description which best tells customer (caller).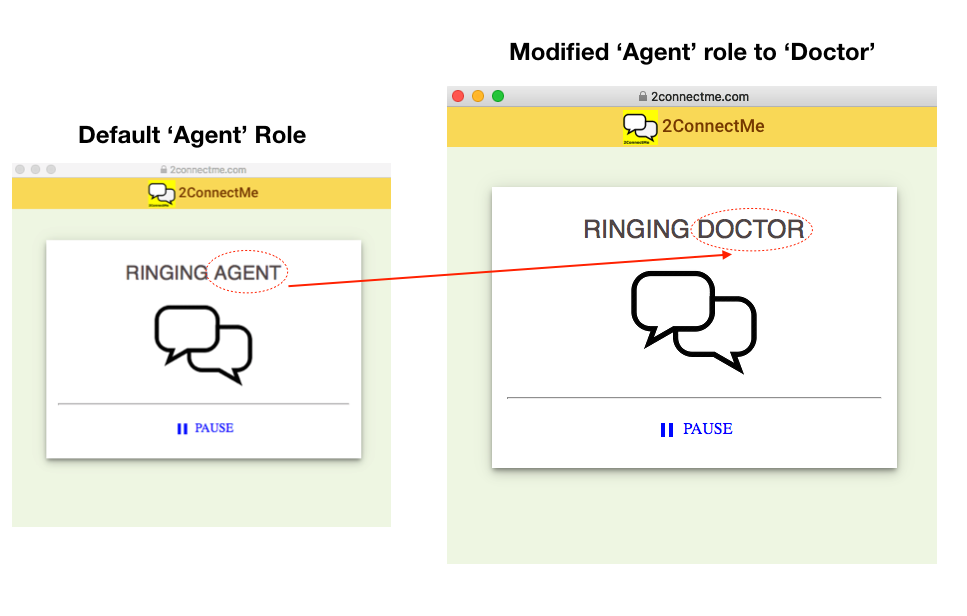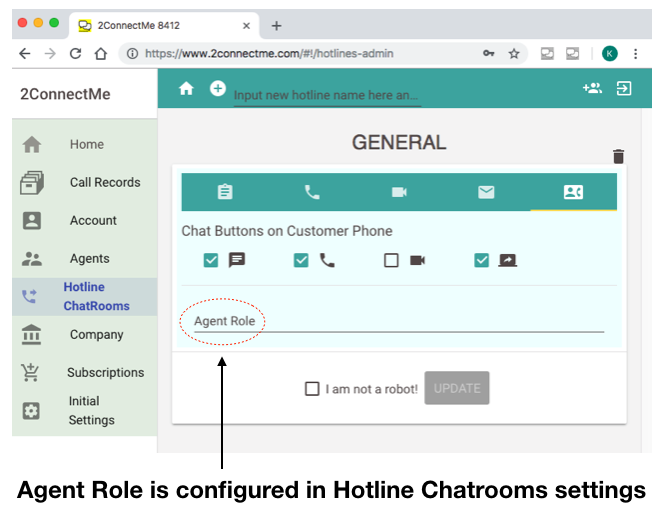 New Header Picture in Contact Form
A picture image can be displayed on header of Contact Form. Below illustrates where this Header Picture URL can be configured under Hotlines ChatRooms.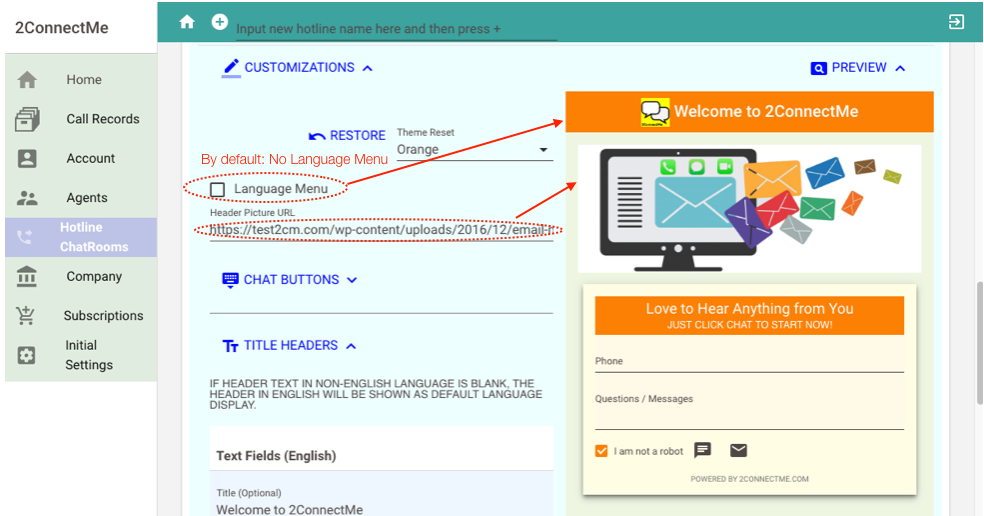 Language Menu Visibility in Contact Form
In this release, it is allowed to hide the language menu which is the default of new chat room as shown in the figure above.
Enhancements on Agent Desktop
Concurrent Agent
New Concurrent Agent button is provided to create another live agent for handling concurrent customer chats. No limitation on the number of concurrent agents. It is subject to your processing power of your local PC desktop.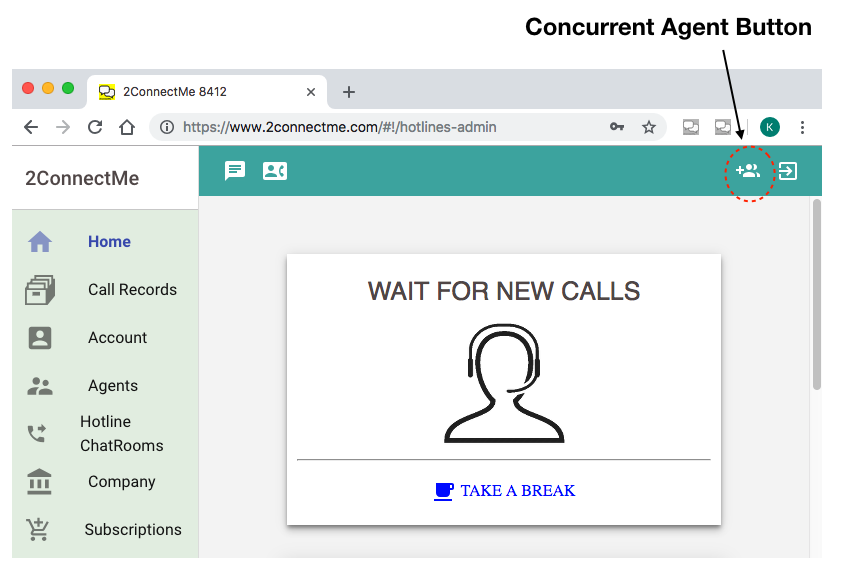 13th November 2018
New Function: Simultaneous Chat and Multi-Parties Chat
A new release has been rollout out to production. We have the following exciting functions to all users.
Simultaneous Chats
This new function provides agents with capability to handle simultaneous chats with customer.
While an agent is handling a chat with a customer, an notification flashing icon is shown to him whenever another new customer is queueing for chats.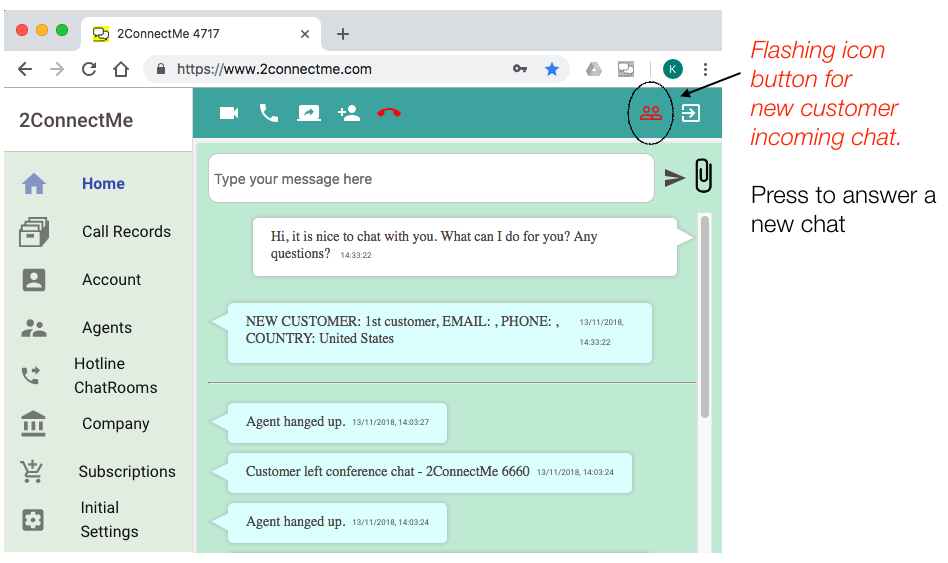 If agent feels he is able to handle additional incoming chat, he just presses this flashing icon and an new virtual mirror agent with different room ID, e.g. 8248 below, is created in another browser tab. He then can continue to handle both chats concurrently as shown below.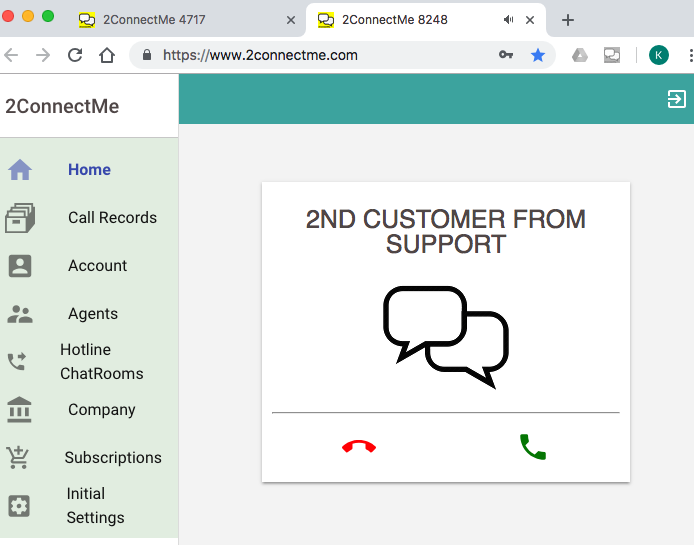 To facilitate chats, such agent is able to drag & drop the browser tab to a separate browser window for convenience to handle simultaneous chats with customer.

Agent is able to handle unlimited number of concurrent chats as long as he feels comfortable to do so.
Multi-Parties Chats (Conference & Monitored Conference)
When an agent is handling concurrent chats, he is even able to have conference chats among all these customers chats. Just press the 

icon to add other parties to join the conference.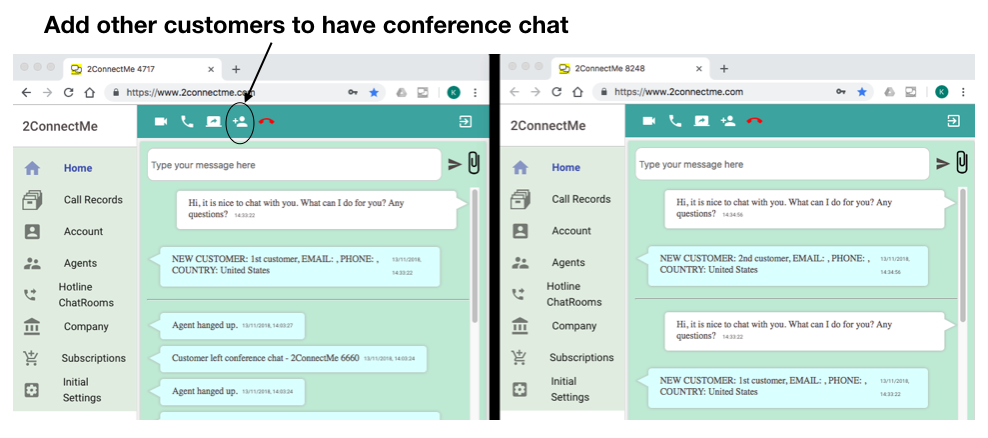 Conference chat and Monitored conference
Agent can select either monitored conference or a normal conference chats. For monitored chats, every text chat sent by the customers must be approved by agent before sending to other parties of the conference.
For normal conference chat, every chats will be broadcasted to customers and agent automatically.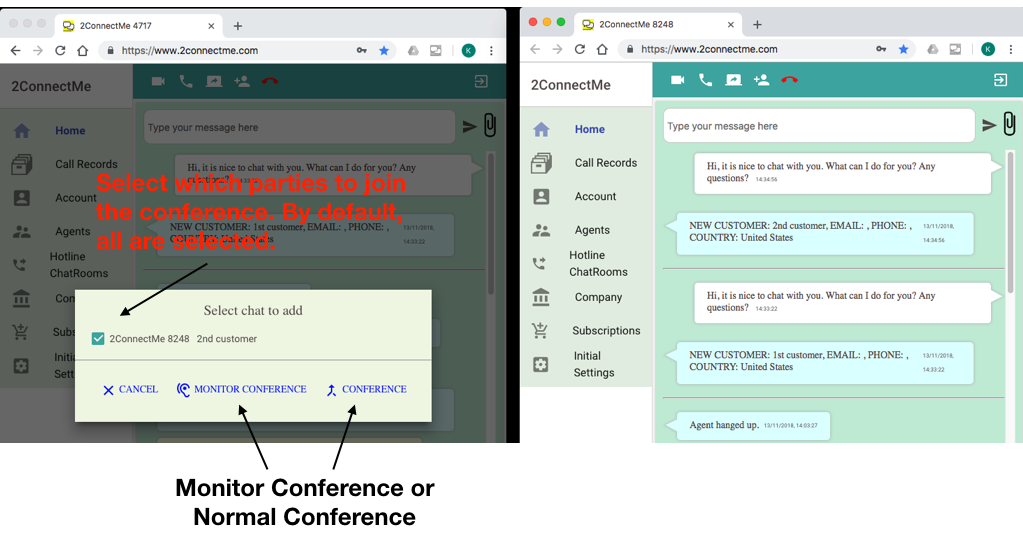 After conference chats successfully made, status are updated.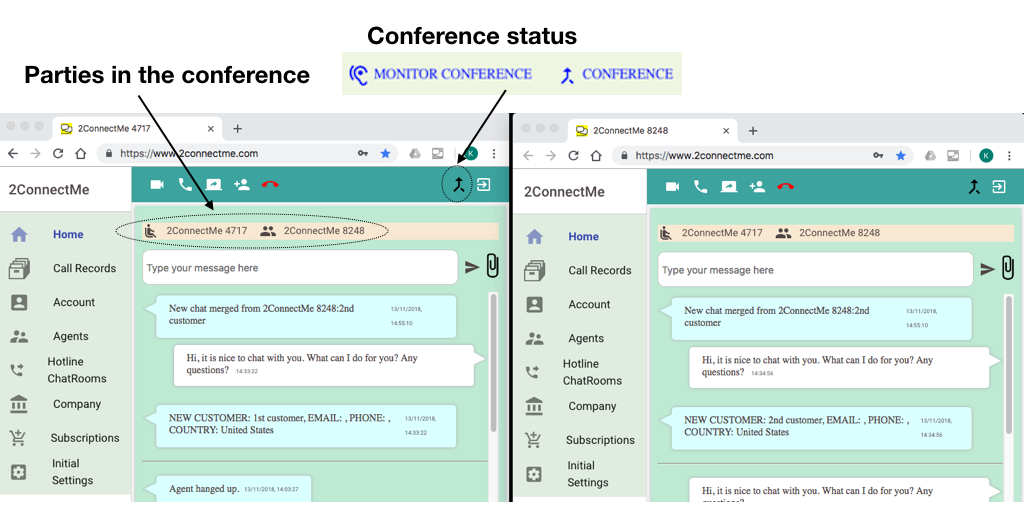 How to: Monitored Conference
Whenever chats are communicated between agent and customer, the agent has to press the Share button 
near to the chats to broadcast to the other parties of conference.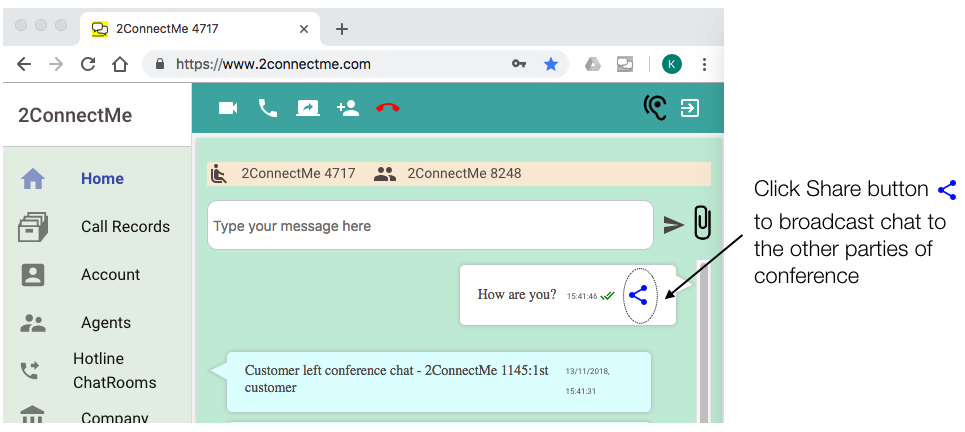 11th October 2018
2ConnectMe – iOS App (ver 1.08)
Business Secure Live Chat Room
An updated app, Business Secure Chat Room (Ver 1.08), in Apple Store has been released to production today. This release offers significant performance improvement. Everyone is recommended to update now.
Please do remember to logout and login again after your apps updated. Otherwise, it won't get refreshed of the data.
9th October 2018
2ConnectMe – Android App (ver 2.0)
Business Live Chat with Anonymous Friend Customer
A new release 2.0 of Android App, Business Live Chat with Anonymous Friend Customer, is released to Google Play store today.
This is critical release update that everyone is recommended to upgrade it immediately.
Fixings
Solve the issues of not receiving new chats / calls in Android 6, 7 & 8 in some scenarios.
Mis-align video chat is displayed when the mobile device screen is too small.
Enhancements
Pressing power button stops the ring tone.
Pressing volume keys stop the ring tone when the phone screen is on.
13th September 2018
New Function: Auto Short Text Triggers
We are pleased to announce that "Auto Short Text Triggers" function has gone live now.
With "Auto Short Text Triggers" function, you can pre-define condition to meet your "high potential customers" criteria. 2ConnectMe provides conditions for locations (the web page URL addresses) and duration (how long customer stays on the page). When the conditions are met, the pre-configured short text will be prompted to customer next to the chat icon as shown below.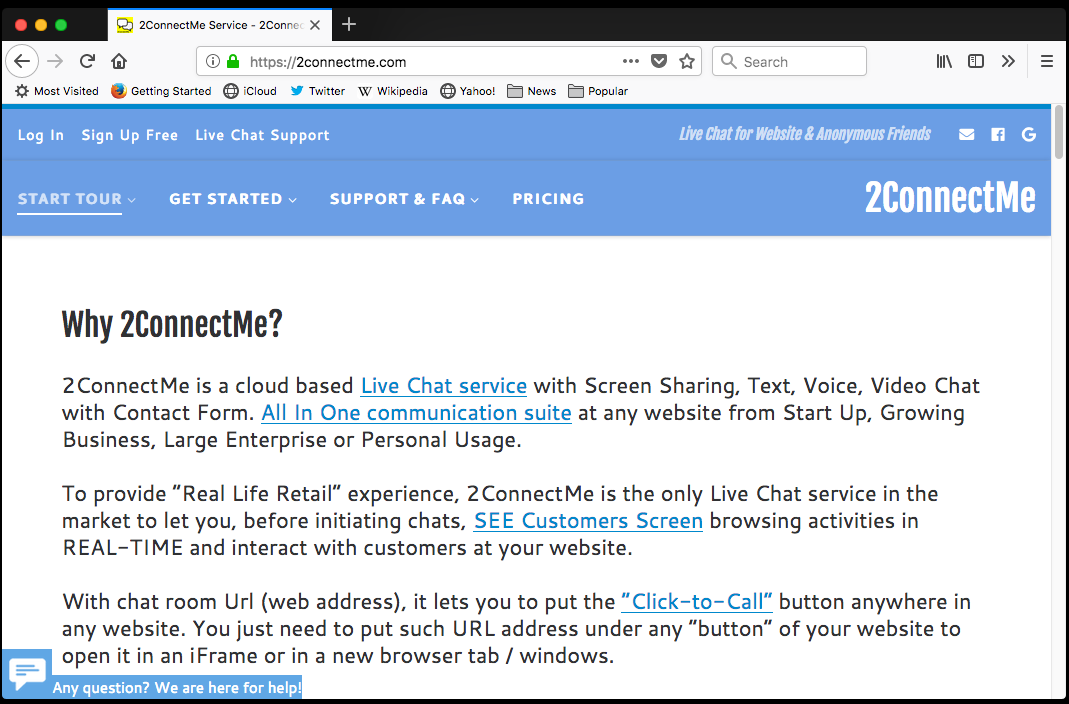 Meanwhile, the agent main screen also shows such Auto Text, red in colour, on customer profile. Just in time, it helps agent to pay attention to serve this customer with higher priority and better service. The agent resources, the most valuable resources in a call centre, can be utilised in the most effective way.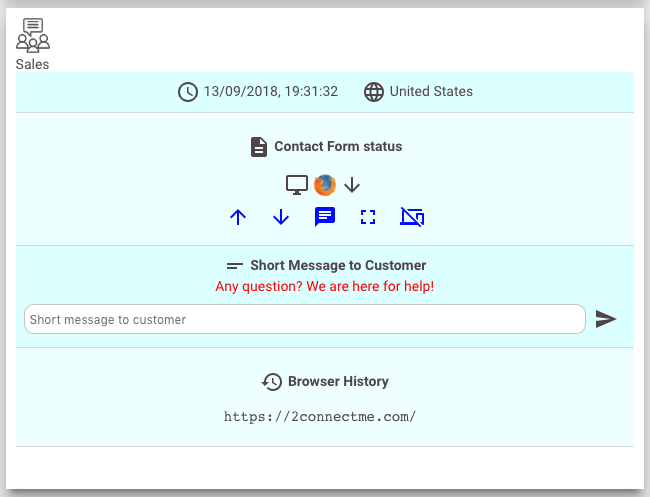 Triggers Setup
In Hotline Chat Room menu, it can configure filters (conditions) to select particular web pages or customer clicks on the web page and stays there for some time as follows.
After the changes made and saved, the contact from URL address link will get updated. You have to update the corresponding 3rd party integration, e.g. WordPress / MailChimp.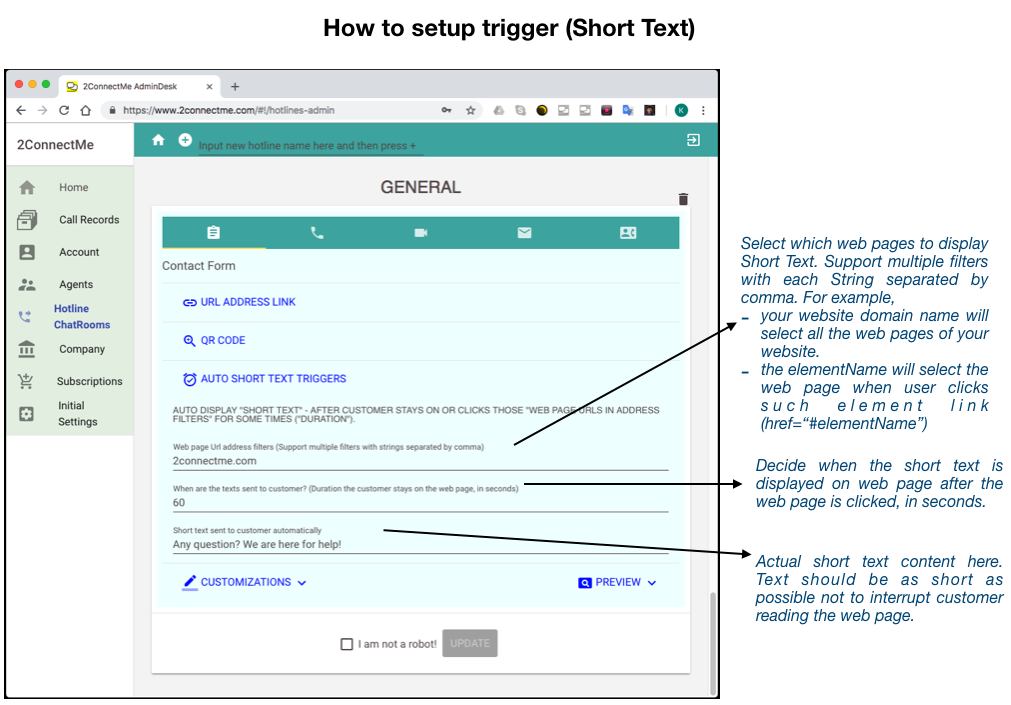 6th September 2018
Initial Settings Wizard
We have added initial settings wizard for new user who logon to use the system at first time. This wizard will help go through the initial settings for the chat room "GENERAL" in the Forever Free account.
If you are existing users, you may experience the system ask you to go through this initial settings in your next logon. Just ignore it. Meanwhile, you may use that to re-configure your current chat room "GENERAL" setup.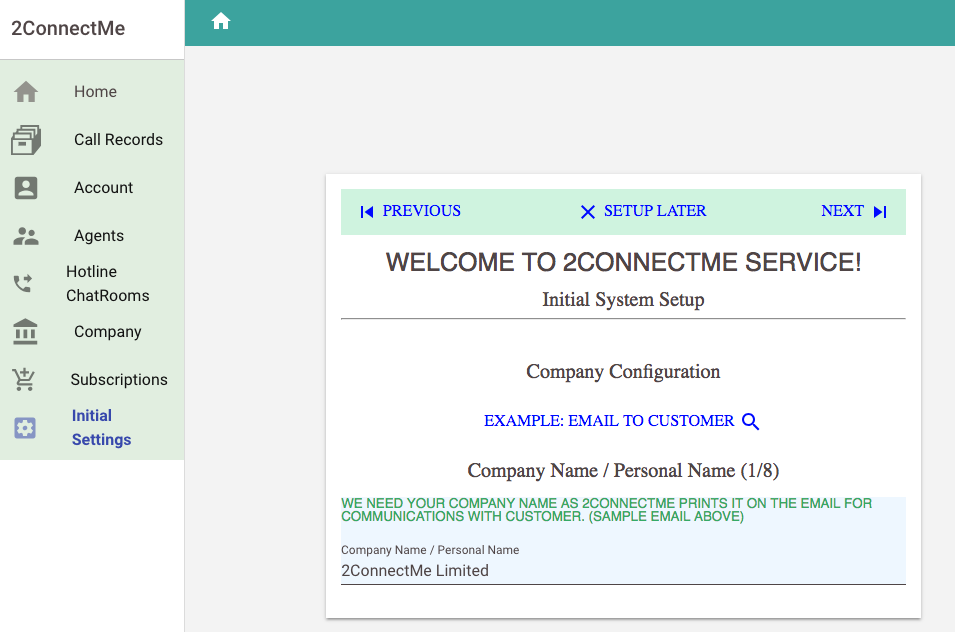 6th August 2018
Major Release Rollout
Enhancements
SEE Customer Screen which before initiating the chats, agent can "SEE" customer interactions on website , send short texts to customer, remotely control pop up / pull down the contact form or proactive initiate chats with customer at any time.
Forever FREE plan provides new FREE entitlements of unlimited agents with 500 connected chats annually.
Growing Business plan provides an 500 connected chats annually with unlimited number of chat rooms / hotlines at US$ 19.99
New Agent photo Url is provided to show agent photo at the beginning of each chat with customer. If Agent Photo Url is blank, system creates avatar according to the agent name. 
While customer or agent is typing and has not finished, the keyboard  is shown to other parties to indicate such typing status.
Fixed Issues
In some circumstances, customer was unable to call again when the call was hangup.
WordPress Plugin, Business Chat Room (ver 1.3.0)
The plugin before ver 1.3.0 is no longer supported. Update to ver 1.3.0 is mandatory in order to update the above advance features.
1st April 2018
New WordPress Plugin, Business Chat Room (ver 1.2.4)
Critical Fixes for security restrictions on Google Chrome (ver 65 or later)
Due to new security restrictions imposed by recent Google Chrome update (the latest version 65), voice call, video call and screen share functions are being affected in the WordPress plugin (ver 1.2.3 or earlier). Quick fixes have been updated. Please download and update to this ver 1.2.4 to avoid impacts on your website visitors who are with Chrome (ver 65 or later).
30th March 2018
Enhancements on Email sent to customer
2ConnectMe is able to forward customer messages to your registered email address of your administrator account, i.e. your user id. The email content is enhanced such that it will include your own company name / personal name in the email subject header.
It is also allowed to modify this company name / personal name at different chat room. A new tab for "Customer Email" is included in this chat room settings.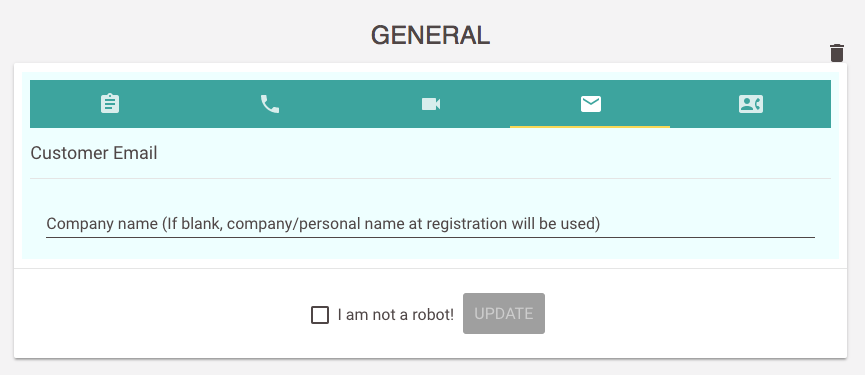 27th March 2018
Quick Fixes: Android App, Business Chat Room, found not working in MIUI Global 9.5.1
Some users from India, Hong Kong and China reported to us that after recent upgrading Mi phone to latest MIUI Global 9.5.1, it found that our Android App, Business Live Chat, no longer worked.
After checking, we believe the issues are from MIUI upgrade. The default Ring tone was not setup properly by the system after upgrade. Therefore, a quick fixes is to manually set your own Ring Tone in Android Settings again after upgrade. The problem is found solved then and the Android Apps resumes working properly.
Feel free contact us at support@2connectme.com for any further issues found on any mobile phone.
We are here for help!
27th March 2018
Company Icon newly added in Contact Form
An icon area is added in the Contact Form for you to put your brand for business usage or your own photo for personal usage.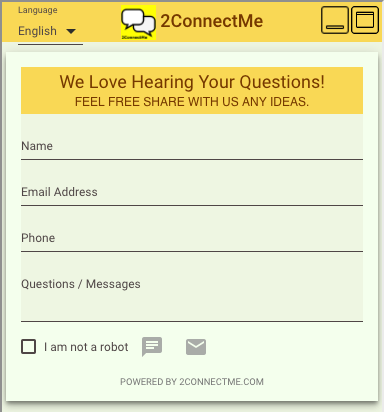 Such icon with size 35×35 can be configured in the Title Icon of chat room settings as shown below. You need to store the icon on your own public drive to provide an icon Url address, e.g. share your icon file in Google drive. 2ConnectMe will not store your image file.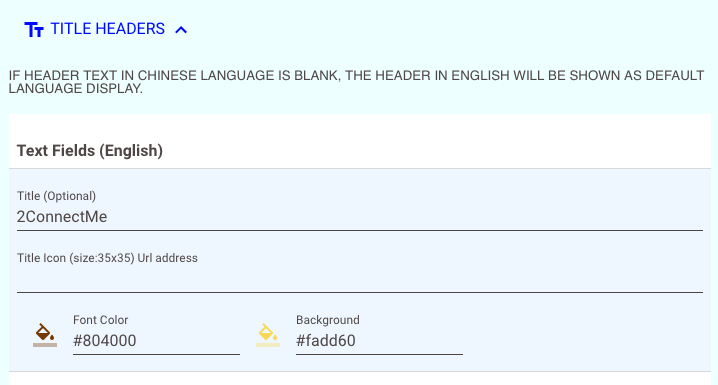 26th March 2018
iOS App, Business Secure Live Chat Room, Go Live @ Apple App Store
Our 2ConnectMe service has come to Apple iOS App Store. Our App, Business Secure Live Chat Room, went live today.
For the time being, this app does not support Voice, Video and Screen Share due to the limitation of the Apple iOS App platform. We will upgrade it to support these functions once Apple iOS App platform supports it in the near future.

2nd March 2018
Support Apple Safari (iOS ver 11.2) with Voice, Video Call
Issues about Video Call in mobile Safari is fixed by Apple in iOS (ver 11.2) The video call feature is added back to production release. What it means that you can share your own desktop screen to customer's Apple IOS devices together with text chat and voice conversation!
Enhancements in User Interface
In order to fit 2ConnectMe App to those small screens fo Apple iOS devices, the user interface of 2ConnectMe has been further simplified. The screens for settings of Chat Room / Hotline is re-designed so that users are able to use small screen mobile devices to configure the settings of 2ConnectMe.
20th October 2017
Support Apple Safari browser (iOS 11 and macOS High Sierra)
It is exciting to announce that 2ConnectMe has been able to run on Safari browsers with features below
Desktop Safari (macOS High Sierra) – Text Chat, Voice Call, Video Call, Receive Screen Sharing
Mobile Safari (iOS 11) – Text Chat, Voice Call.
Due to known issue in mobile Safari to support Video call, such functions, video call and receive screen sharing, are disabled now. When the issues are fixed by Apple, these functions will be released to 2ConnectMe users again.
Therefore, if you don't need to share screen with your customer, desktop Safari (macOS High Sierra) is the preferred browser for 2ConnectMe agent as it can handle all the call types from all the browsers including Mobile Safari.
Notes:
Enable ring tone in Safari browser

Since Safari, by default, disables the video animation in all the websites, you need to enable it in order to have ring tone alert for customer incoming call. Please open Safari to go to 

2connectme.com

 and then select

"Settings for This Website"

. From there, you may enable playing video for

2connectme.com

 website. Please refer to screen below.
Since then, 2ConnectMe is able to support text chat, voice call, video call in all major browsers including Google Chrome, Mozilla Firefox, Microsoft Edge and Apple Safari.
Congratulation! Enjoy our 2ConnectMe service for free for lifetime!
Updated on WordPress Plugin – Business Chat Room (ver 1.2.3)
In order to work with Safari browser, it is required to update your WordPress Plugin to ver 1.2.3 accordingly. In this release, a fix is done for the unexpected contact form popup on the Firefox browser.
29th September 2017
The following enhancements have been added to 2ConnectMe Service.
Enhancements
Firefox Screen Sharing function
Screen Sharing function is natively supported by FireFox browser WITHOUT browser extension needed. It means a lot to customers. They no longer need to install Chrome Extension (Screen Sharing for 2ConnectMe) for screen sharing function. Even a normal customer with FireFox browser (ver 50 or later) is able to have screen sharing function with your agent in addition to Video and Voice conversations.
Downsizing of Contact Form
We have been hearing our users that the contact form is too large to fit in their websites. The contact form has become more slimmed as  shown below.
They are the enhancements of2ConnectMe cloud service . No need to update your WordPress Plugin as long as you have already got the latest update of 2ConectMe WordPress Plugin (Business Chat Room) installed.
---
21st September 2017
Support Microsoft Edge (ver 40.15063)
Microsoft has started to update Windows 10 (Creator update version). In this Windows 10, the Microsoft Edge browser (ver 40.15063) starts supporting WebRtc. The integration with Microsoft Edge in 2ConnectMe has been verified and completed. An updated version has been rolled out to production. From now onwards, 2ConnectMe services, provision of video, voice and screen share, reaches the users of almost all browsers including Chrome (ver 54 or later), Mozilla Firefox (ver 50 or later) and Microsoft Edge (ver 40.15063). Congratulations to 2ConnectMe. Cheers!
---
10th August 2017
WordPress Plugin ver 1.2.0 updated and new language Portuguese supported
Enhancements
Support both http and https websites
Even your website without https connection, 2ConnectMe WordPress plugin will detect the connection and, if needed, open a new browser to have direct https connection between website visitor and 2ConnectMe server.
New Portuguese Language Supported
Besides Chinese Language, a new language Portuguese is supported as well. Thanks our end users for supporting such translation!
---
3rd August 2017We have been actively enhancing our applications. The following new functions will be put to production service on 4th August.
This is an important critical release such that you have to clear the 2ConnectMe Local Cache and Call Records for it working properly. This can be done through Menu -> Account -> Performance  to go to the screen below. The same applies to Android Mobile Apps – Business Chat Room.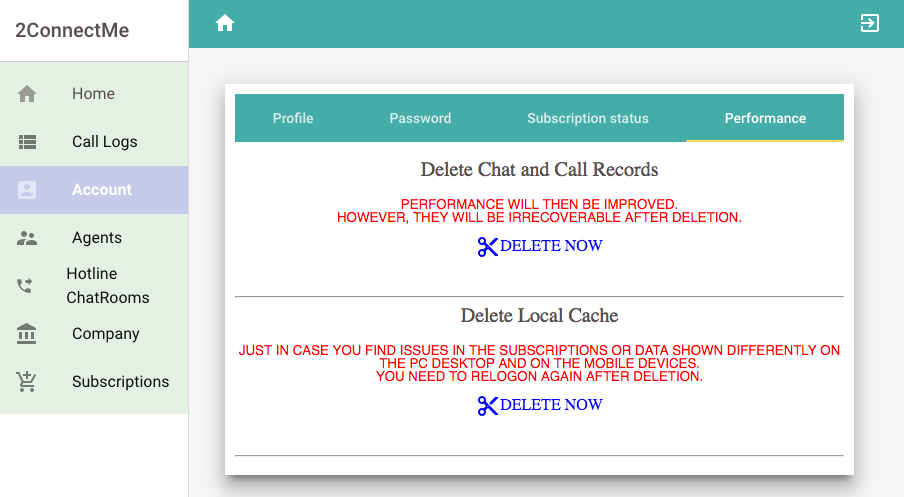 Then, you will enjoy the following new functions and features.
Enhancements
Exchange Files and Photos between Customer and Agent
You can enjoy instantly exchanging any files with customers. Communication with customer has become never been efficient before. Below is the screen of a single call record. No limitation on file types. All files are supported. They are all FREE! For those free-tier-accounts, each file is limited to 1M in size.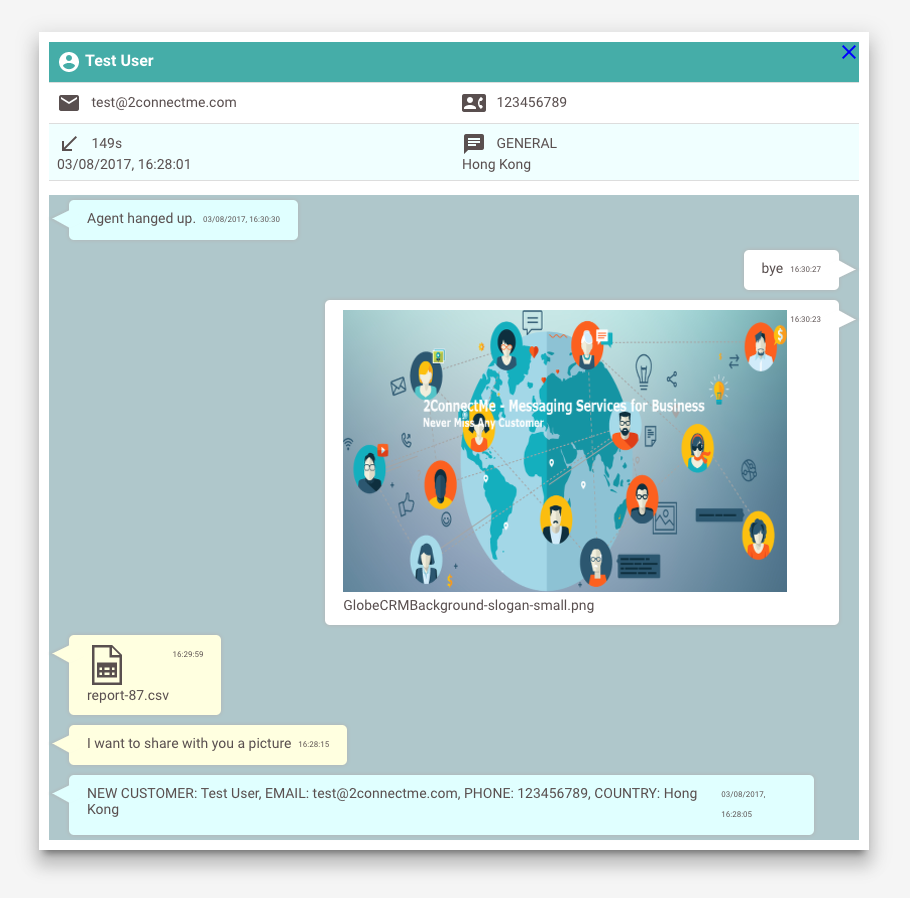 Improvement on Call Records
The Call Records function has been fully re-written. Browsing the customer call history becomes much easier. The COUNTRY of customer about where he comes from is also captured in the call record.  Below is the screen for illustration.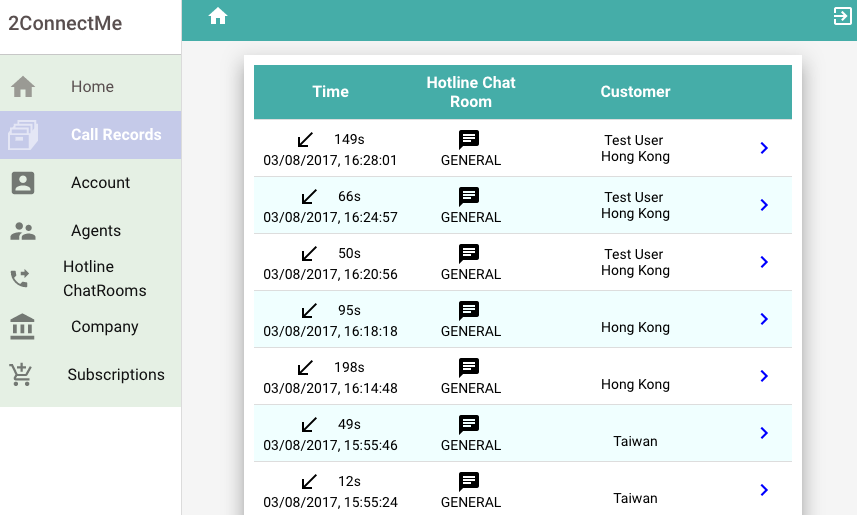 Agent Status
Agent status is also rewritten to indicate their online status if they are ready for serving incoming call. The screen below is self-explanatory.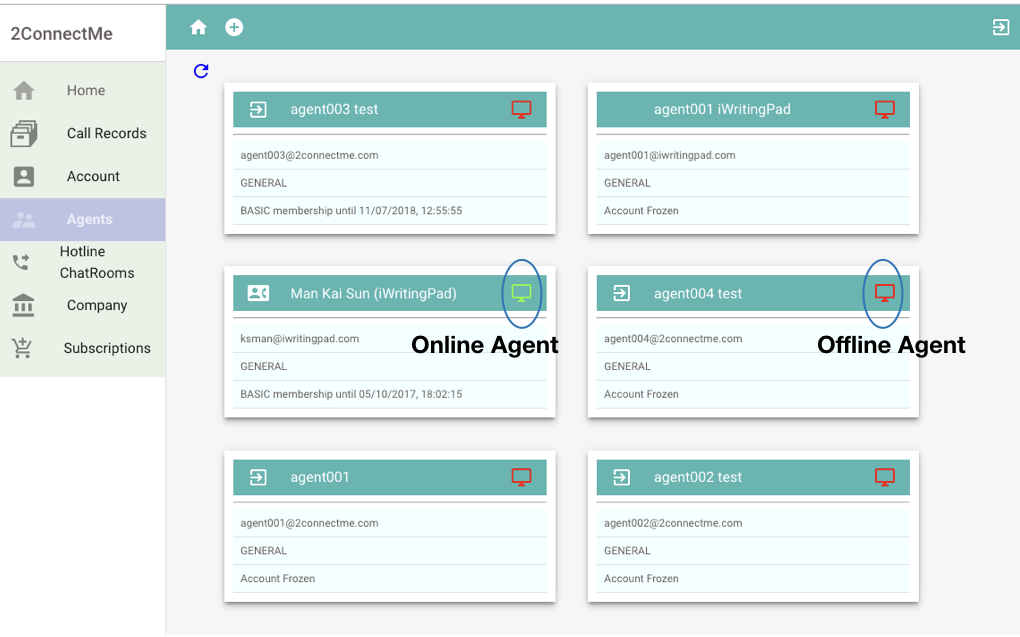 Customer Queue Indicator
When there is any customer call waiting for agent to answer, an indicator for Customer Queue is flashing to alert agent of serving customers.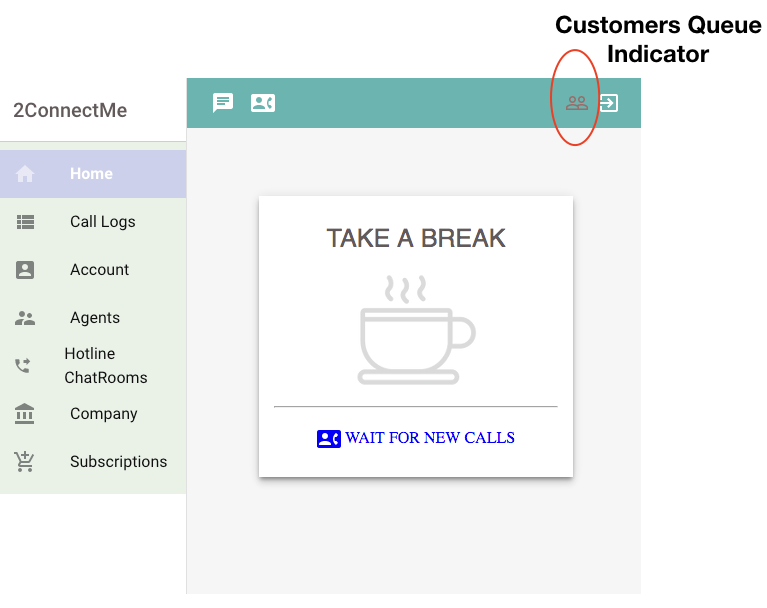 ---
18th July 2017
QR code for Hotline Chat Room
New function to create QR Code for hotline chat room is available now. The size of QR Code can be adjusted upon the slider bar moves on top.
With this QR Code, your business is empowered with a new channel for communication with customer. You may just put such QR code on any advertisement, or even your name card. Then, customer can contact your business by just scanning the QR code.
Such QR code for each chat room is in the Main Menu -> Hotline Chat Room admin.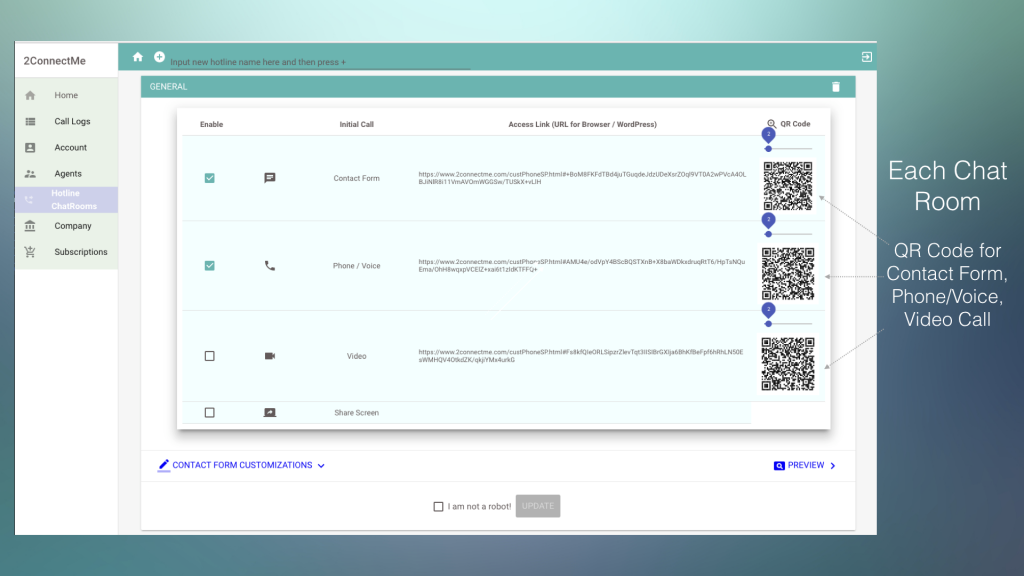 ---
17th July 2017
New release of 2ConnectMe
Enhancement
New Theme Templates for customer phone.
You can customise the contact form to different color for your business needs. Besides, there are templates for you to start with creating any new color theme for your own hotlines chat room.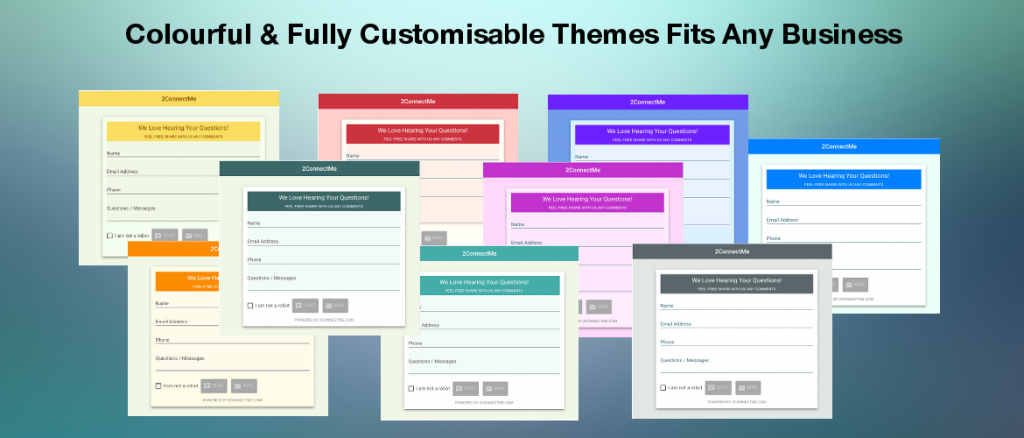 New UI for Customisation of customer phone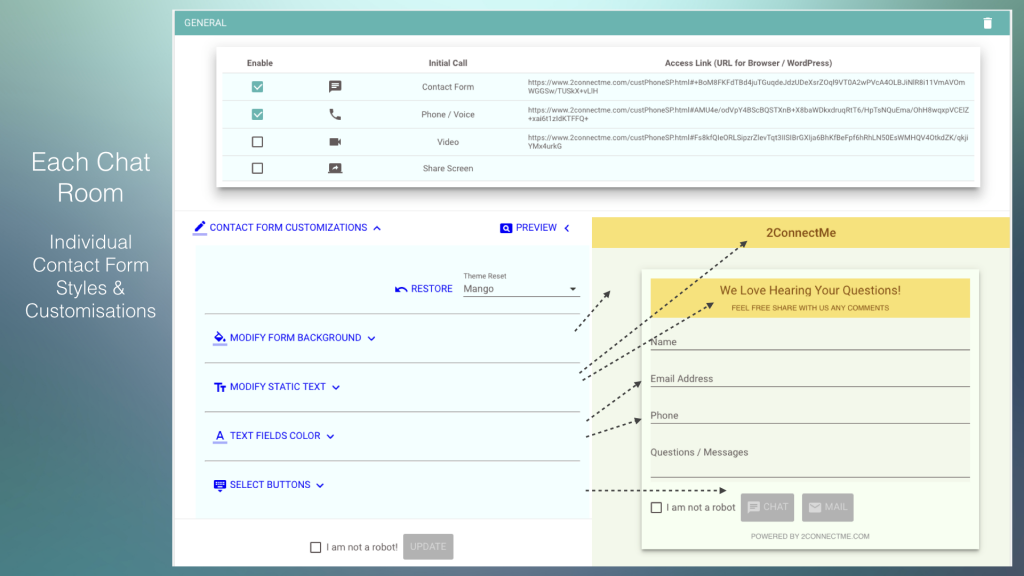 ---
6th July 2017
New release of 2ConnectMe with WordPress plugin ver 1.1
The updated release of 2ConnectMe and WordPress plugin ver 1.1 was put to production service on 7th July. Please take note that you have to re-configure the Contact Form in order to work with this release upgrade. Please find the details of changes as follows.
Enhancements
PopUp form with more functions
It provides additional Direct Phone Call and Direct Video Call at initial PopUp. It means website visitors only need a single click the "PopUp" Phone or Voice call button on your landing page to reach your company staff with voice and video communication as needed.
Contact form with new phone and video call buttons
With new phone and video call buttons at contact form, website visitors are able to initiate phone call and video call to reach your company staff.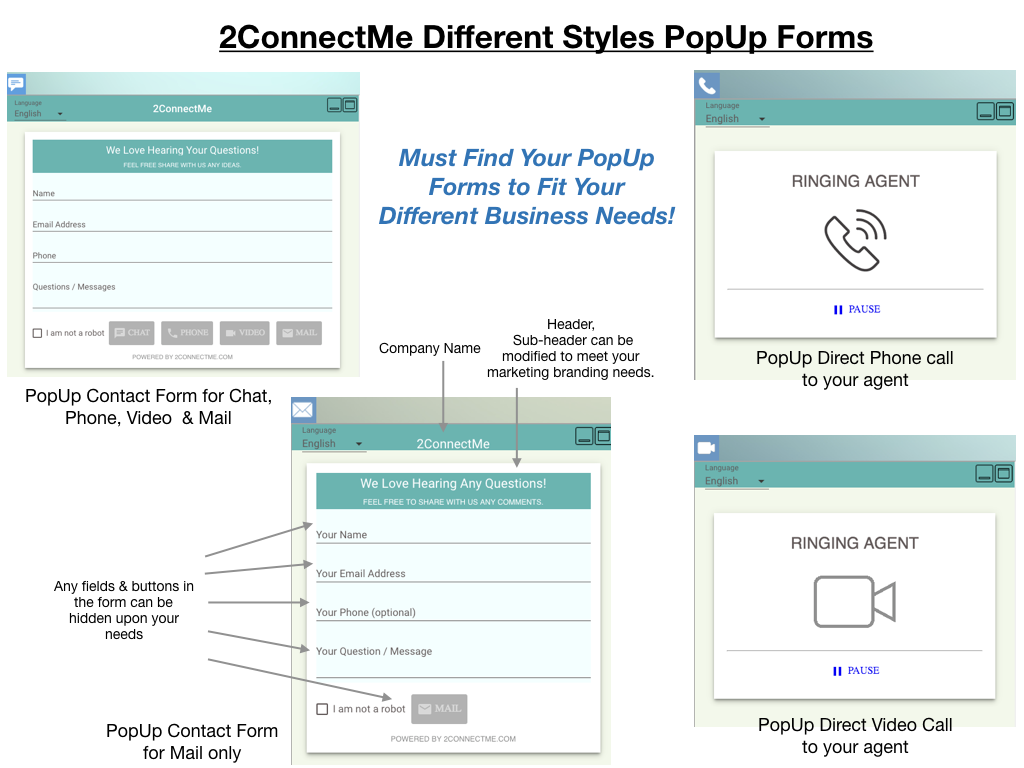 Each hotline chat room comes with independent Contact Form
Instead of a single contact form for all the hotlines / chat room, you are provided with a new contact form with independent styles and configured format for each of hotline chat room. That is the reason you have to reconfigure your existing hotline chat room GENERAL, e.g., with a new contact form. (Refer to screen below)
PopUp form with more styles configurable.
It provides options to configure each of field of contact form. Also "mandatory" field choice is also configured. (Refer to screen below)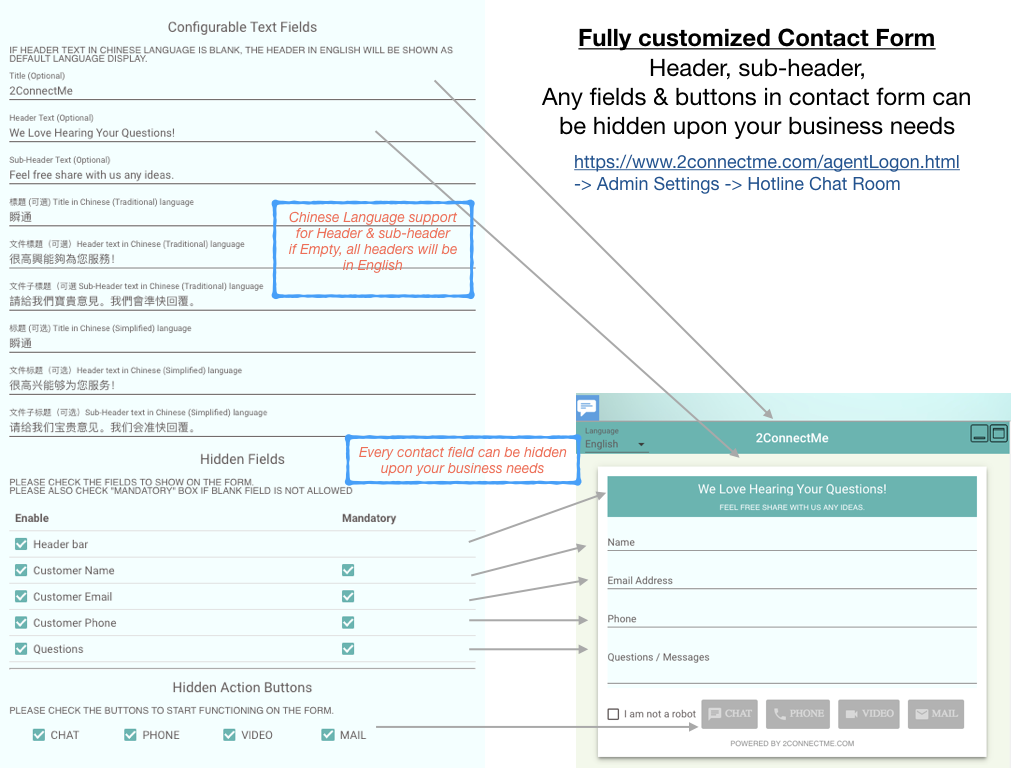 Pre-configure website visitor call types allowed
It provides option to configure what call types allowed for website visitors for each of hotline. (Refer to screen in WordPress plugin description below.)
WordPress plugin – Business Chat Room (ver 1.1)
Enhancements
The size of PopUp form is automatically adjusted according to its operation need. No size configuration needed from this release onwards.
Icons are provided for Chat, Phone, Video and Mail with size Large (50×50), Medium (40×40) and small (30×30). You are free to select according to your nature of PopUp form.
Support Popup direct Phone Call and Video Call.
Changes
When mouse is not on the 2ConnectMe PopUp screen, it was automatically closed in the past release. With this release, a new button, Close window "-" buttons are provided at the upper right corner of window. Window will not be closed automatically once opened. User will have to click "-" button to close the windows. We believe such changes facilitate users inputing the contact form information.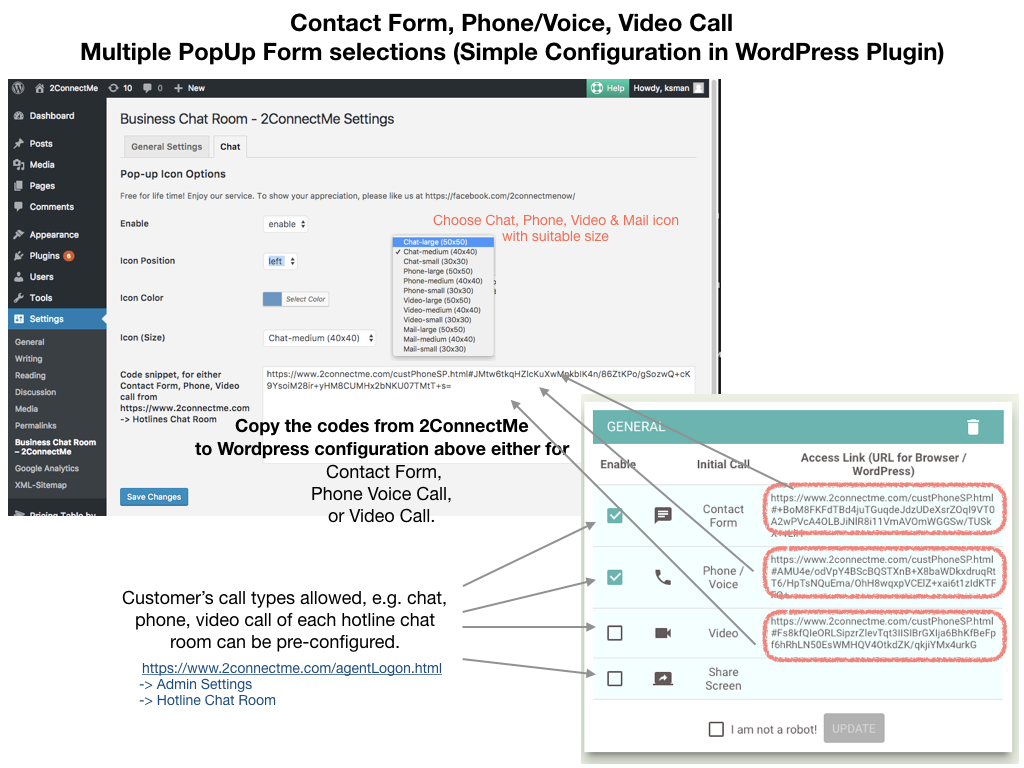 Installation and configuration
---
1st July 2017
New release of 2ConnectMe with WordPress plugin ver 1.1
2ConnectMe has been updated to add the following new functions.
1. Improved the new layout of contact Form as follows.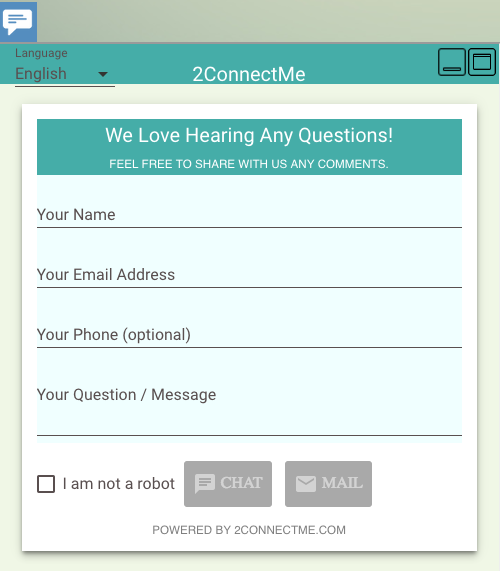 2. Fully customizable contact form including all headers and individual fields.
You may also include your Company Name in the Title text as shown below. This is configured in Admin settings -> Company -> Contact Form Customization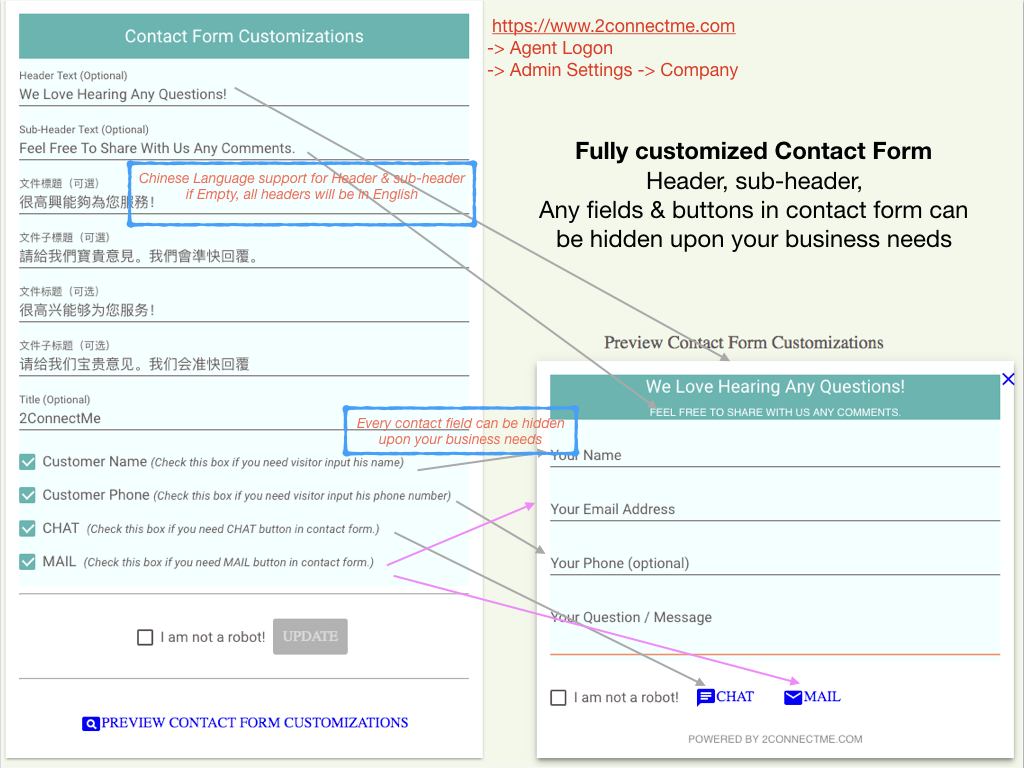 3. Configure phone buttons available in customer phone for each of hotline chat room. For example, below example shows that the hotline GENERAL only provides phone button and text chat button in the customer phone. This is configured in Admin Settings menu -> Hotline Chat Room.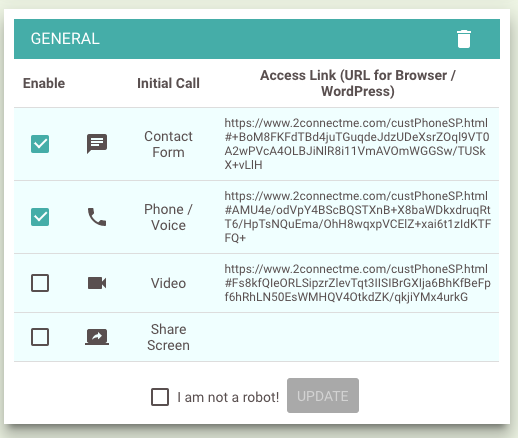 Business Chat Room (2ConnectMe) WordPress Plugin ver 1.1
1. Support PopUp for Contact Form for Live Chat, Mail for email question, newly added Direct Phone voice call and Direct Video Call.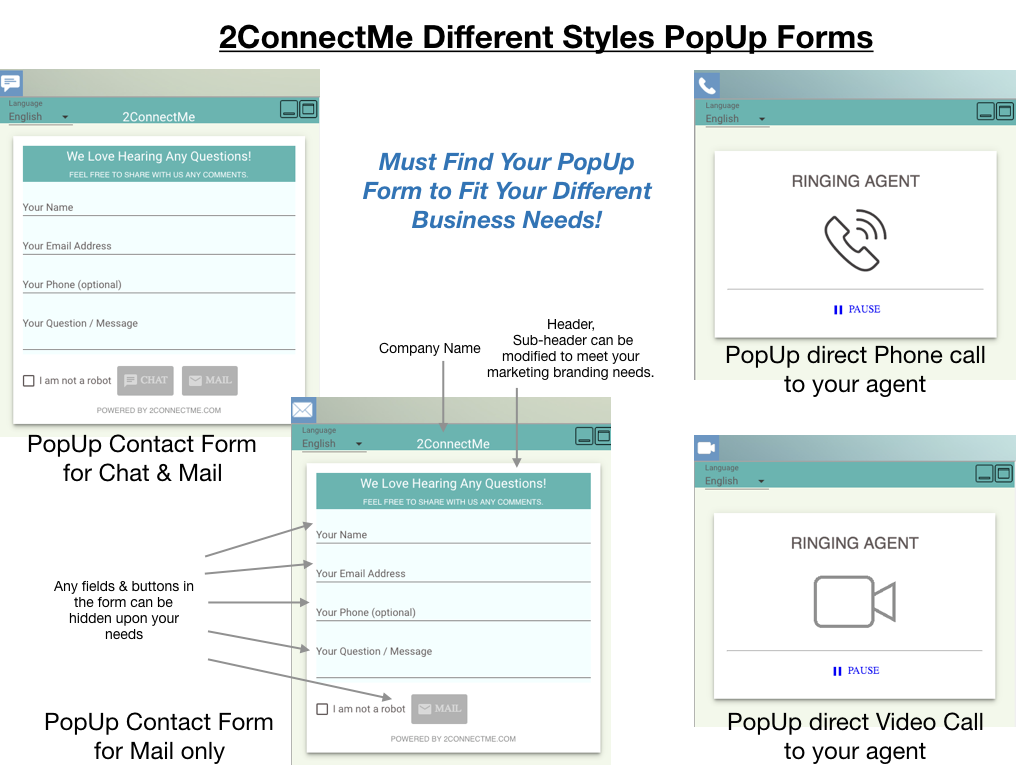 2. New Icons for Chat, Phone, Video and Mail with different sizes provided for your selection. Figure below show the WordPress configuration screen and 2ConnectMe GENERAL hotline  chat room information. It shows where the GENERAL hotline chat room Url is copied to WordPress configuration settings.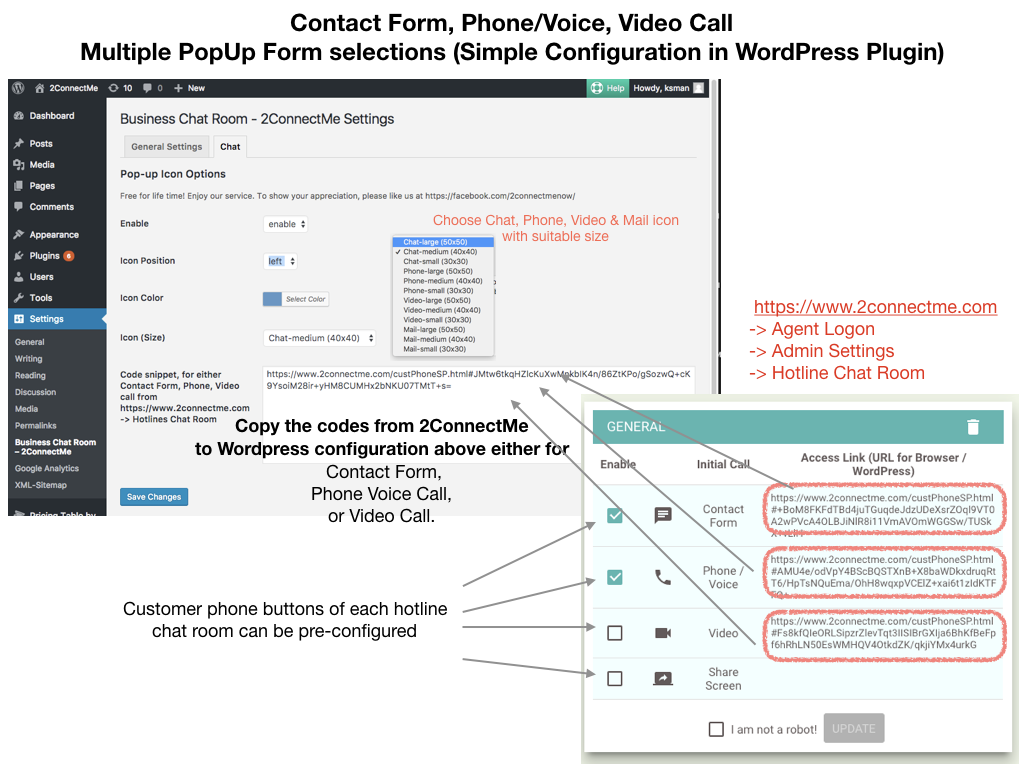 ---
12th June 2017
Support Chinese Language (Traditional and Simplified)
New release for supporting Chinese Language has been put production service today. For customer contact form, the language will be based on browser local language settings to switch automatically. For the language in AgentDesk, it is configured in the Admin menu-> Account -> Language.
Language settings for Agent through "Account -> Language"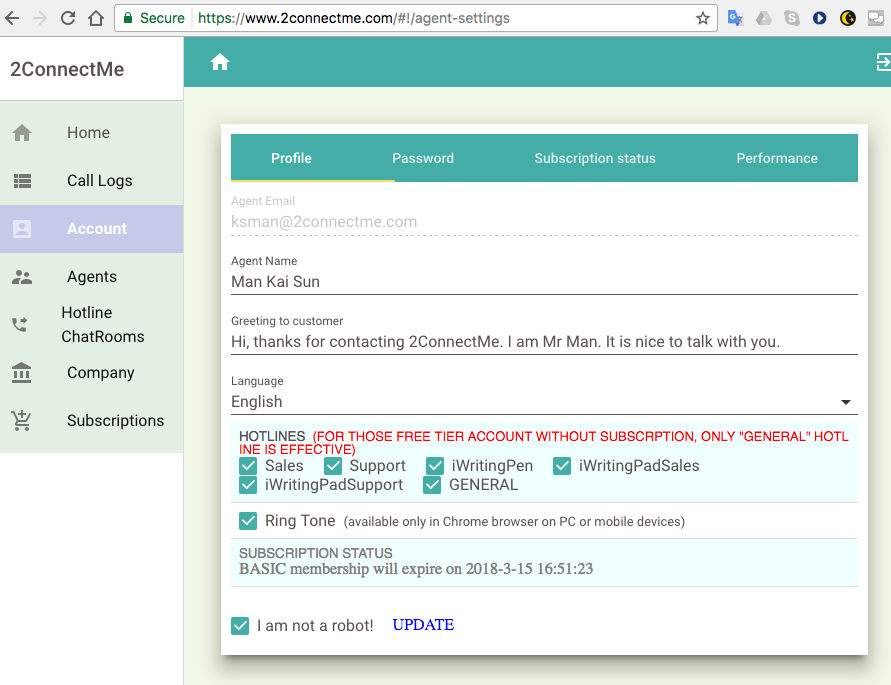 Language settings for header texts of customer Contact Form
The header texts are configured in the Admin settings -> Company.The header and sub-header text in the customer's contact form provides entry for 3 languages, i.e. English, Chinese (Traditional) and Chinese (Simplified). If there is no text found in Chinese language for header texts, English header texts will be used in the customer contact form.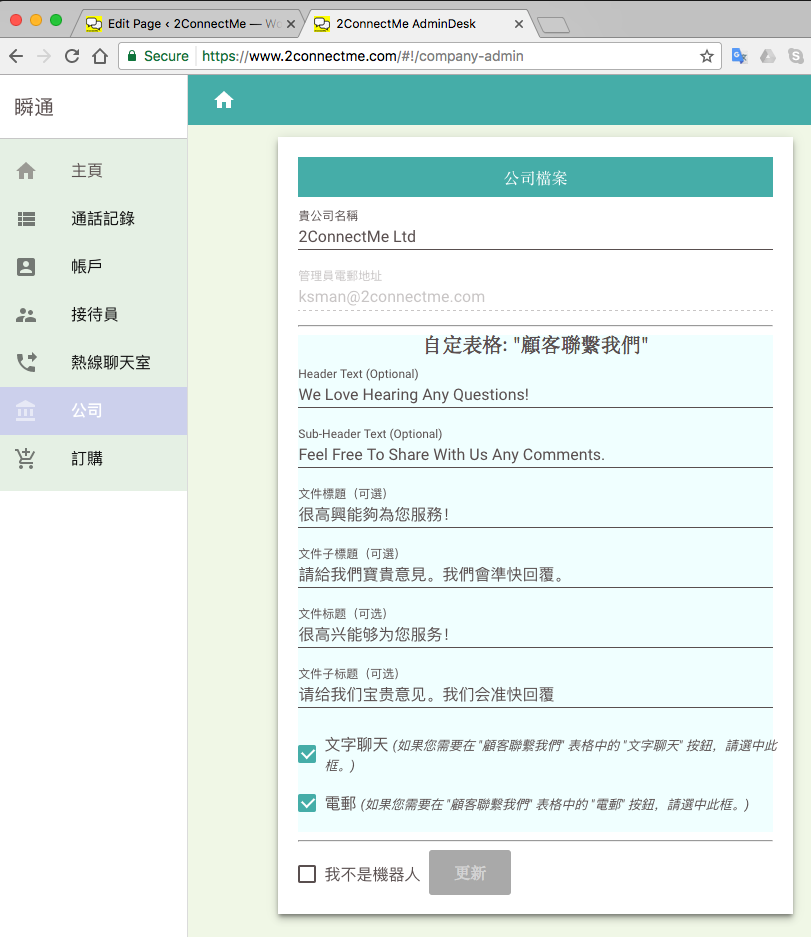 ---
24th May 2017
Enhanced Contact Form customisations
We are pleased to announce that an enhancements on Contact Form have been put to production service today.
In this release, user is able to customise the contact form as follows.
Customise the header text which can be your company name or welcome greeting.

Customer the top second line with smaller text size below header text which can be your specific greeting to attract customer for questions.

Allow both Chat and Mail question in the same contact form. User may select to have Live Chat or Mail the question or Both. "Mail question" will forward customer questions to your registered email address of 2ConnectMe.

Real Time Preview of Contact Form is provided for any customisations done. The screen below is extracted from Admin Menu -> Company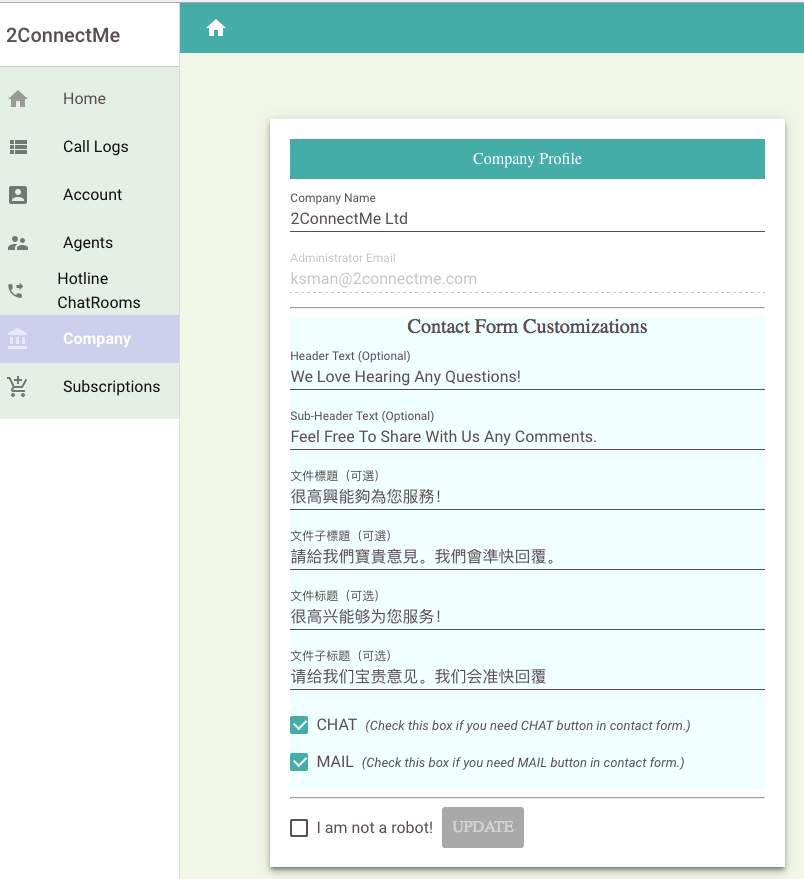 ---
10th May 2017
WordPress Plugin "Business Chat Room – 2ConnectMe"  Go-Live today
It is excited to announce that WordPress Plugin named "Business Chat Room – 2ConnectMe" is available for download in WordPress Plugin Store now.
This plugin facilitates website designers, those who even not with developer technical skills, to integrate their websites with 2ConnectMe service. The plugin provides website with on-demand pop up with Contact Form for Live Chat whenever mouse click or hover of 2ConnectMe message icon at the home page. It is same as https://www.2connectme.com which is integrated with the same plugin.
Enjoys!
---
29th April 2017
2ConnectMe comes to Android platform (Google Play Store)
It is pleased to announce that 2ConnectMe (Mobile App) is available for download for all countries today. The app is fine tuned to meet requirement of mobile apps, energy saving.
A big step forward to provide great convenience to let you no need sitting in front of PC desktop to handle customer enquiries. With this mobile apps, you are free to "start handling" incoming calls at any place, any time at your convenience.
Secondly, Android Google Play Store Subscription is also supported. This is another payment system in addition to existing Paypal accepted.
In order to be able to receive customer enquiries on your Android phone, please ensure to spend some minutes to go through the tips of usage. Particularly, it needs your Android settings to allow 2ConnectMe "AutoStart" mode. For the details, please refer to FAQ of this website.
Why waiting? Start to download from the link below. Cheers!

---
---
1st Feb 2017
New Promotion videos are available for details of 2ConnectMe operation
1. Introduction of 2ConnectMe messaging system
2.  Five Mins Free Tier Account Setup
3. Hotline Administration
4. Installation of Chrome Extension for Share Sharing function
---
9 Jan 2017
Launch of 2ConnectMe (Desktop)
It is excited to start production service today.
Production site  https://www.2connectme.com
Contact us with Live Chat, Email or Facebook for support here.