Video Live Chat Room for Websites, WordPress, Shopify, Google Sites & Social Media, Freelancer with WhatsApp Agent
2ConnectMe is a cloud based Live Chat Room with Screen Sharing, Text Chat, Voice Chat, Video Chat and Contact Form for any websites such as WordPress, Shopify, Google Sites or any normal HTML webpage & Anonymous Friends. 2ConnectMe is a LOW-CODE / NO-CODE platform to empower any Android, iOS App, websites or marketing campaign with a advanced contact center solution connecting your App users / website visitors to your agent staff.
All In One communication suite is designed for Start Up & Personal Usage, Growing Business and Large Enterprise. For personal usage, even without a website, 2ConnectMe provides a fully customized contact form as a new contact channel for anonymous friends @ Social Media such as YouTube, Facebook, Twitter & Instagram.
Your Website Viewed As A Street Store
To provide "Real Life Retail Shop" experience, 2ConnectMe is the only Live Chat service in the market to let you, before initiating chats, watch Remote Customers Screen & their browsing activities in REAL-TIME and interact with customers at your website.
Customer Contact Channel for Any Kind of Websites and Businesses
With chat room url (web address), it lets you to put the "Click-to-Call" button anywhere in any website or Floating Sticky Chat Icon with PopUp Form on  WordPress, Shopify, Google Sites,, any other HTML webpage, or just inside your email. You just need to put such URL address under any "button" of your website, Android App, iOS App or email to open it in an iFrame or in a new browser tab / windows.
Public chat rooms can distribute incoming customers chats to different groups of agents, e.g. by departments.
2ConnectMe also provides each agent with a PRIVATE chat room url which distributes the incoming customer chats only to a specified agent.
Mobile Agent App and Support WhatsApp Agent
With Mobile Agent App in Apple App Store and Android Play Store, agents can work remotely and serve customer chat 24 hours at their convenience. 2ConnectMe also supports 3rd party app, WhatsApp, as an mobile agent app. It is NO longer a must for agents to install 2ConnectMe mobile app to serve the customer chat. Instead, any agent can serve customer chat through WhatsApp on his own mobile device.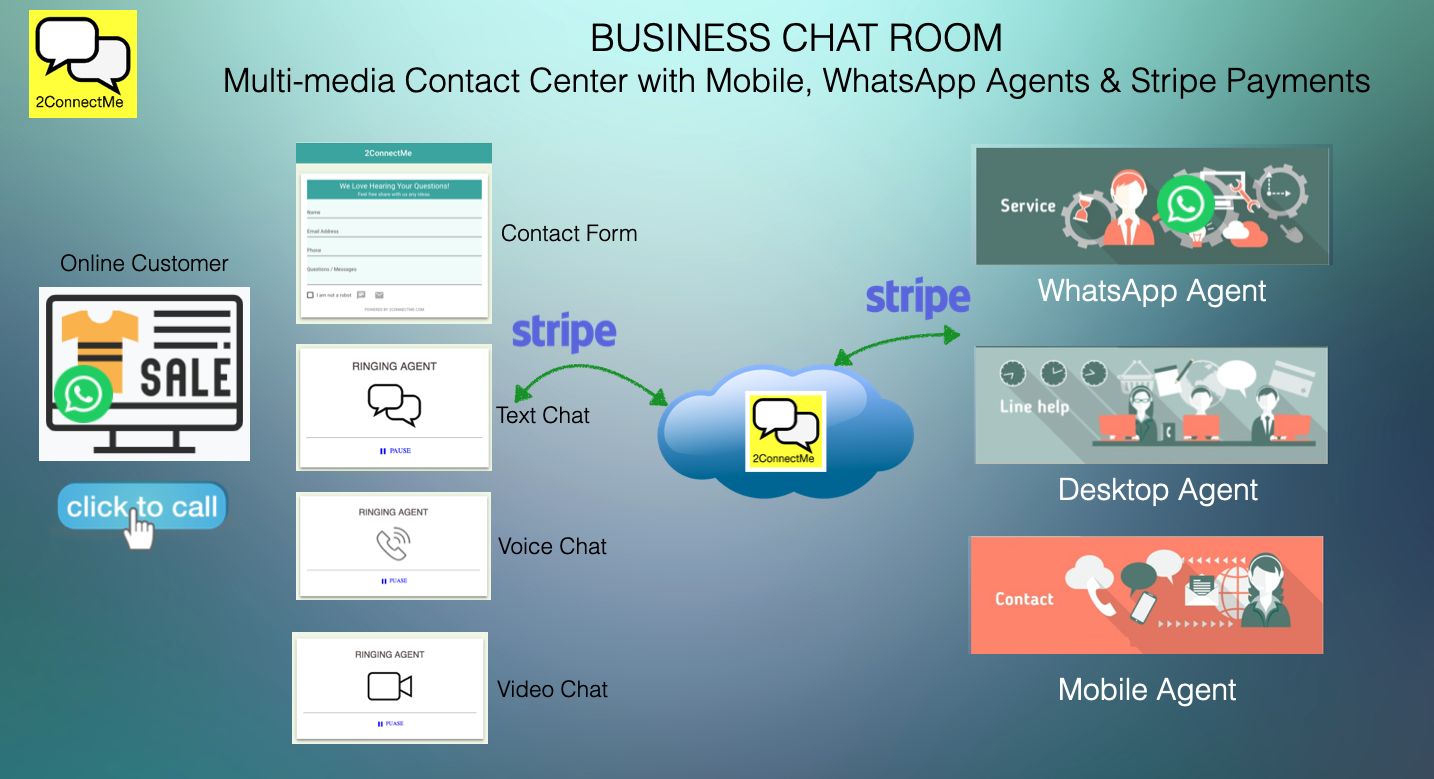 Empower Your Website With Revenue Generators
Business Revenue – InApp Payment functions let you receive payment during the chat conversation.
Manual Payment Request allows agent to push invoice to customers and let them pay on the fly.
Automatic Charges requires customer to provide the credit card pre-authorization before connecting to chat with your agent. No need to worry about customer not paying the service fee after the chat.

Your Must Have Tools for Marketing Campaign
2ConnectMe Live Chat is natively integrated to any marketing tools, e.g. MailChimp or any other normal text based email, and Social Media, e.g. Facebook, Google+, Twitter, Instagram or any others.
With chat room QR Code, 2ConnectMe Live Chat empowers your business with new customer offline contact channel.  Such QR Code on your offline media, e.g. paper advertisement, lets your customers use mobile phone to scan the QR code to have live chat with your business instantly.
Designed with Mobile App and Working Remote from desktop
With tight integration of notification on browsers (Chrome / Firefox), You no need to sit in front of PC to wait for customer / anonymous chats. You will receive notifications from Mac OSX, Windows operating system whenever customers open your website or open the contact form. Then you may directly click the notification banner to open the 2ConnectMe Agent to SEE what the customers are doing on your website.

We understand your agent resources are the most expensive. The "Auto Whisper Text Triggers"  function filters for those high potential customers who deserve your attentions and shows such Auto Whisper Text on their web pages AUTOMATICALLY.
Flexible pricing scheme provides the right choice for any businesses from FOREVER FREE plan, GROWING BUSINESS plan and LARGE ENTERPRISE plan.
Business Live Chat Room

SEE customers browsing activities at your website in REAL-TIME
SEE customers typing on Contact Form to get prepared before live chat
Know your customers from their browsing behaviors
Live Chat Room with Screen Share, Voice & Video

Live Chat Room with unlimited web sites, unlimited agents
Support file sharing with any types, co-browsing, agent greeting to customers, personal own photo,
or system created virtual avatar
Live Chat Room with Email Marketing, Social Media & Offline Media

Open a Complete New Set of Contact Channels to Reach Your Customers
Live Chat Room for StartUp, Enterprise & Personal Usage
All In One Communication Suite Live Chat with Contact Form, Chat Room and Forwarding Customer Messages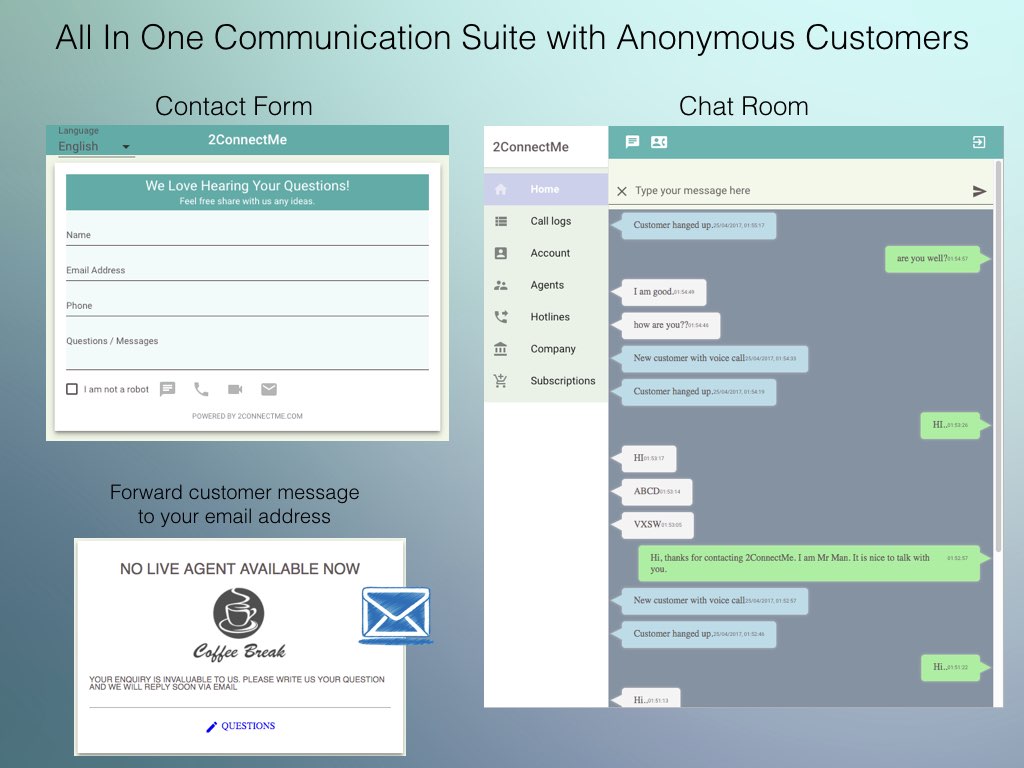 Designed for High Traffic Large Enterprise
Advanced Redundant Resilient Multi-Sites Call Centre
Simultaneous & Multi-Parties Conference Chats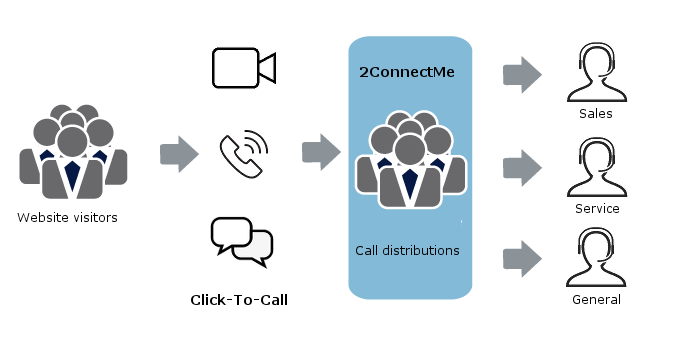 Flexible Pricing Scheme
Absolutely FOREVER FREE for Startup or Personal Usage.
Limited budget for GROWING BUSINESS and Email Marketing Campaign.
Affordable budget for LARGE ENTERPRISE.
Enjoy our FREE services Forever Sign Up Free !