Business Revenue function empowers your agent to accept online payments from your clients instantly. The revenue will be deposited to your bank account directly without going through 2ConnectMe bank account. Secure receiving payment is guaranteed.
How You Get Paid
Your clients will pay you directly through 3rd party payment gateway vendor, STRIPE (https://www.stripe.com). Your revenue will be deposited to STRIPE account directly. Therefore, you need to have an account in STRIPE to save the revenue and then transer the revenue to your own local bank account.
Agent Receive Payments
The agent will be with "Credit Card" payment icon when the chat is established with client. Once the credit card button is pressed, an service Invoice pop up is shown for agent to fill in the service details and send to the client instantly.
Meanwhile, a payment request pop up with service details is displayed to your client. Once the client clicks the Pay Now button, it will go to STRIPE credit card payment processing.
Please take note the 2ConnectMe does not keep any confidentail financial information, e.g. Credit Card information. It eliminates the risks of credit card information hacked.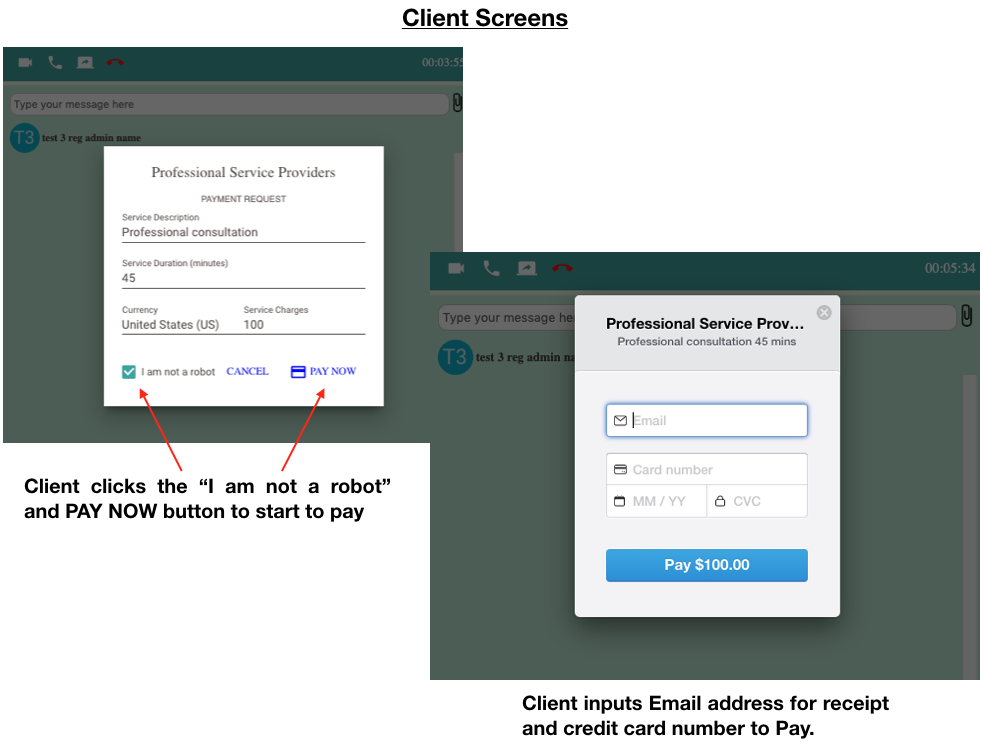 After the client makes the payment, agent will recieve the receipt of such payment transaction as shown below. Lastly, agent should either start the Timer (SERVICE STARTS NOW button) or finsh the Timer (SERVICE FINISHED) according to the progress of the service provision.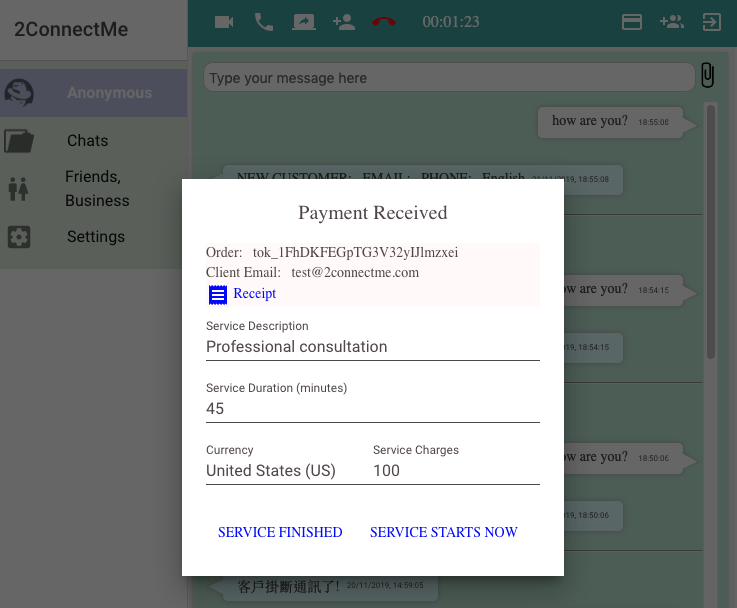 Business Revenue Balance
Any revenue earned will be shown immediately as screen shown below. Please click the refresh button to retrieve the latest transactions when needed.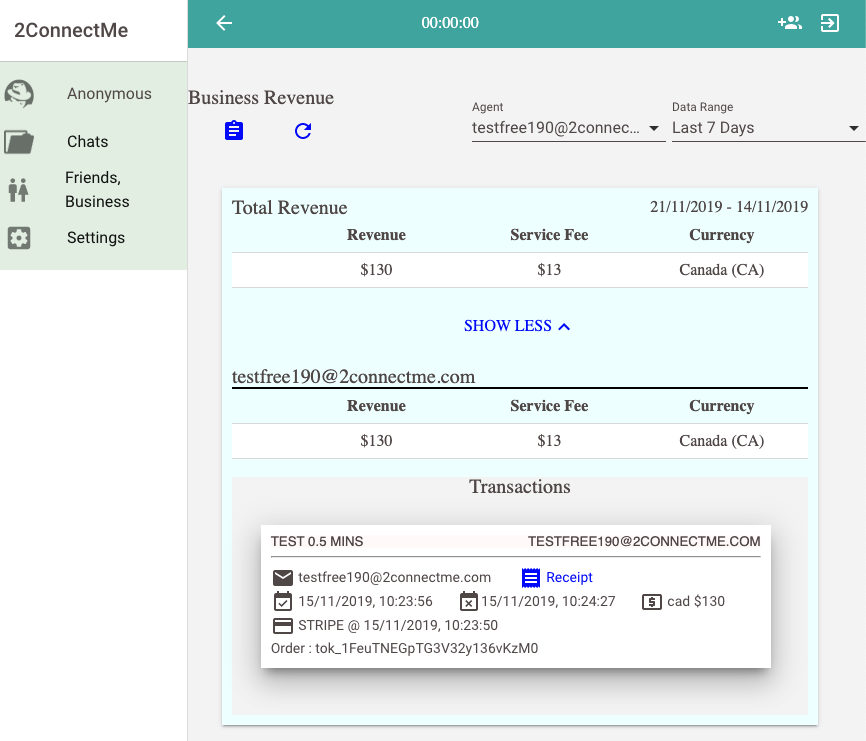 Pricing
Business Revenue function is available for all account types including Forever FREE tier account. 2ConnectMe will charge on every transactions you successfully made. Please take note that you are responsible for the service provided and the following fees and charges on your revenue:
2ConnectMe will take 2% of the revenue paid by your clients as the fees to provide the 2ConnectMe platform to support your online service provision.
You are responsible for the STRIPE fees, the fees incurred in refunds, and chargebacks etc such as, but not limited to,

Stripe take 3% + 0.25C for credit card payment handling fees.
STRIPE charges a fee when transferring the revenue to your local bank account.
The STRIPE charges above are for reference only. Actual charges may vary in differnt countries. Please refer to https://www.stripe.com for the latest service fees.
Activation & Setup
Agree to Service Contract Agreement
Open a new account in STRIPE (3rd party vendor of payment gateway).
Validation of email address and mobile phone registered in STRIPE.
Enable agent to receive payments (Credit Card button available for new chats).
1. Service Contract Agreement
The activation invovles consent to the 2ConnectMe Service Contract and opening an STRIPE account to link to 2ConnectMe. 2ConnectMe will then be able to handle the payment processing on your behalf.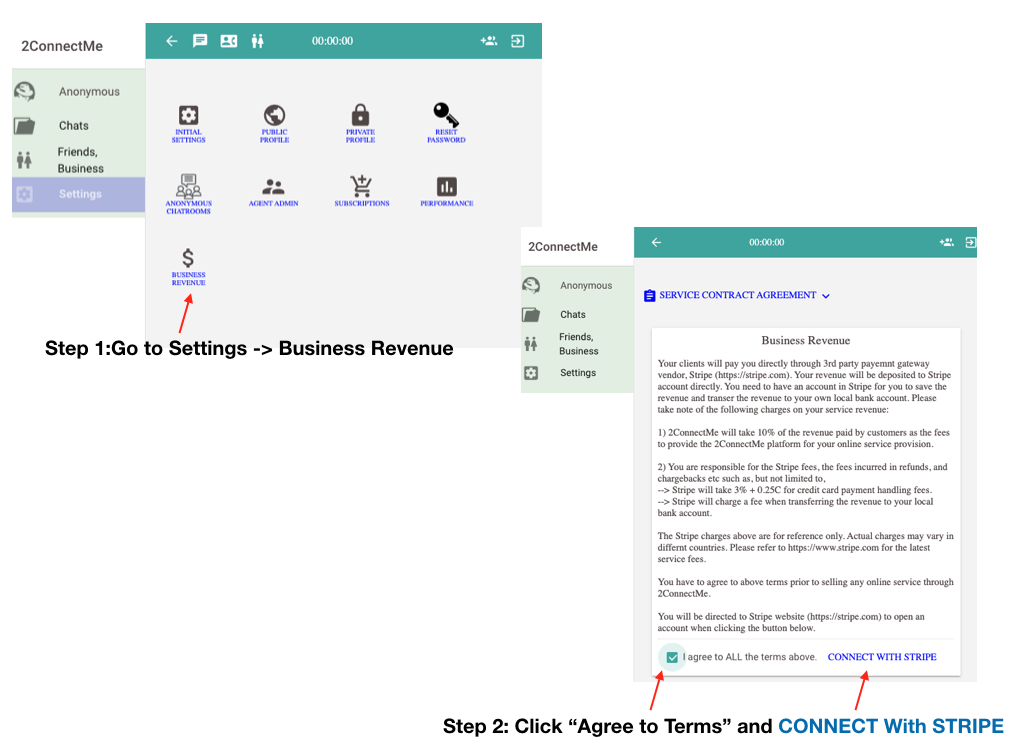 2. Open an Account in STRIPE
After clicking "CONNECT WITH STRIPE" button above, you will be directed to STRIPE website to open a new account as screen shown below. Please fill in the information to complete the registration of STRIPE.
Friendly reminder. STRIPE requires you to provide your own local bank account details. For initial opening account, you may just enter any information to pass this registration process. You may edit bank account information again in STRIPE admin panel afterwards when you have earned revenue to transfer to your own local bank account.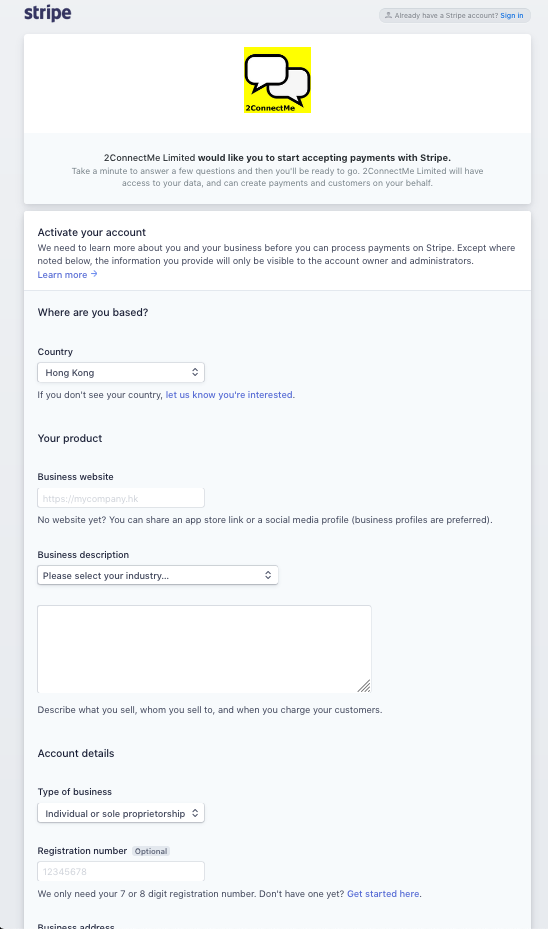 After successful opening an account in STRIPE, you will be directed back to 2ConnectMe Business Revenue. Just click the account status and it will show status LINKED WITH STRIPE successfully as indicated in the screen below.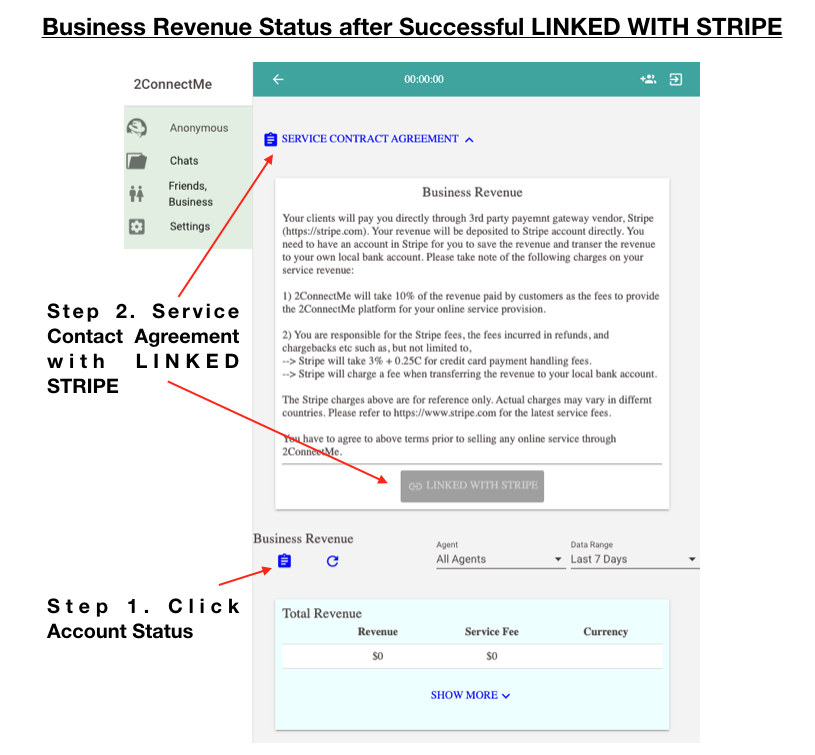 3. Validations on STRIPE account
STRIPE will also send you an email to confirm the registred email address and mobile phone number as shown below. Just click the button in the email to complete the STRIPE account email validation process.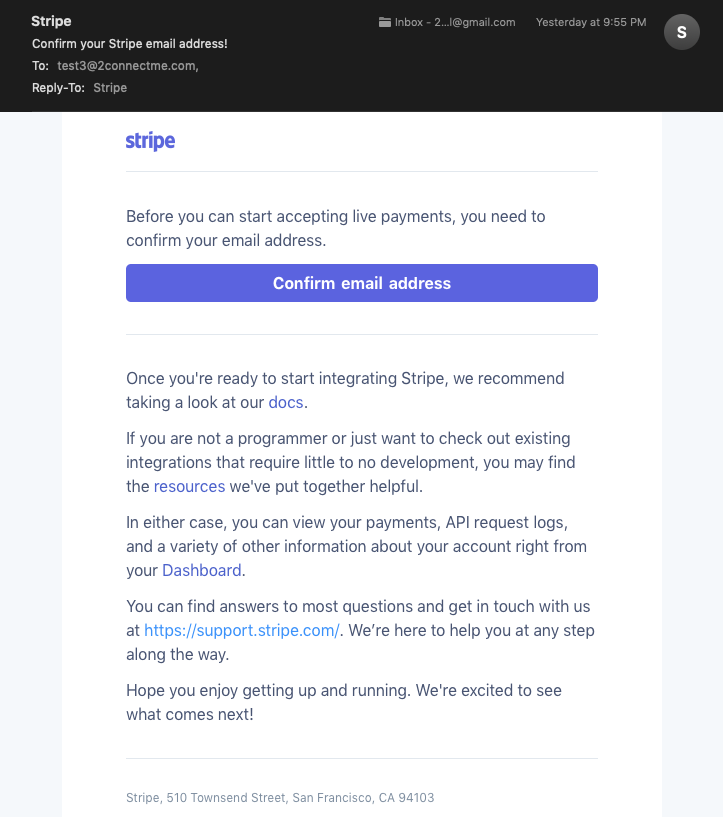 Congratulations! The finance account with STRIPE is completed. Next, you also need to enable those agents to allow them to receive the payment from clients.
4. Enable Agent Receiving Payments
Enabling agents to receive payment from your clients can only be configured by the 2ConnectMe account administrator, who is the first user to open the 2ConnectMe user account.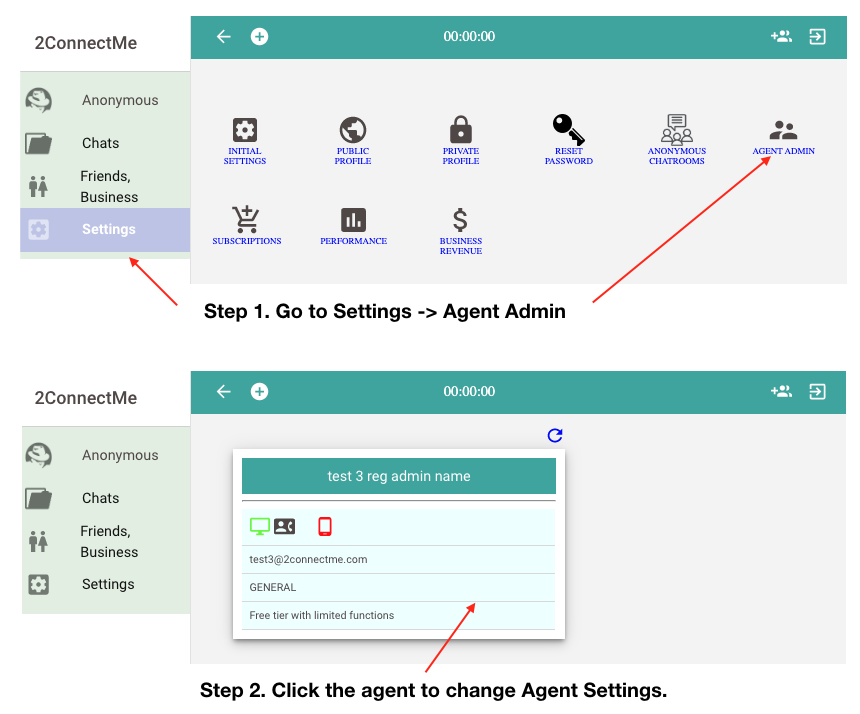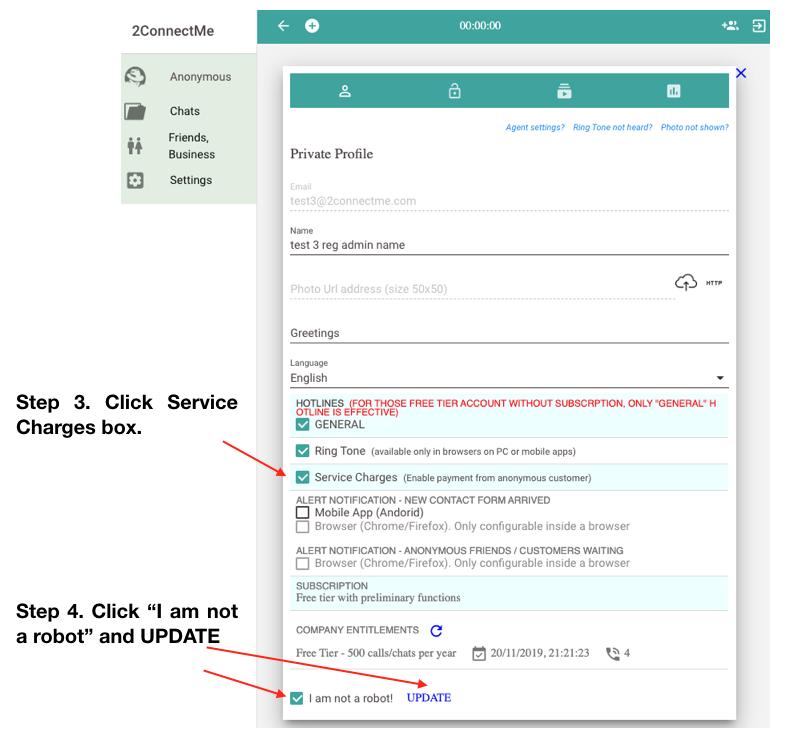 Congratulation! Your agents are ready for receiving the payment.