WhatsApp Chats Distribution – How to
In order to distribute customer chat to an WhatsApp agent, it requires to step up the services as follows.
Setup WhatsApp Agent Service Staff
Setup Chat Room to select WhatsApp agent for distribution
Setup WhatsApp button on Contact Form
WhatsApp Url for direct access through browser
Step 1: Setup WhatsApp Agent Service Staff
For each of agent to enable WhatsApp chats function, his Agent Private Profile must be properly setup with WhatsApp data. Details steps are in Agent Private Profile here.

Step 2: Setup Chat Room with WhatsApp agent for distribution
The Chat Room settings must be with WhatsApp Assignment enabled. It tells 2ConnectMe server how to select WhatsApp agent to serve customer. It is, by default, WhatsApp chat assignment is enabled as shown in the figure below. This is setup in Chat Room settings about Chat Assignments here.

Setup 3: Setup WhatsApp button on Contact Form
Finally, in order for customer to have WhatsApp agent service staff, the contact form needs a WhatsApp button for customer to click to ask for WhatsApp agent. the Contact Form can be customized here.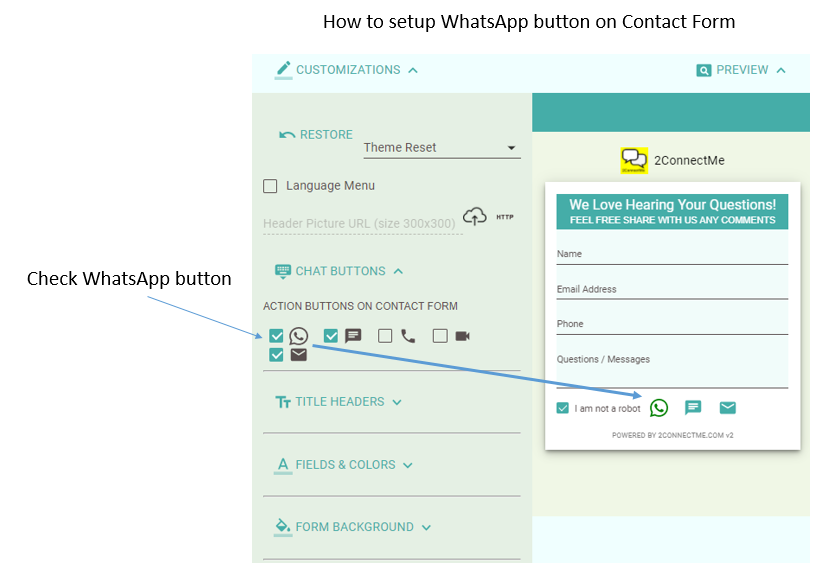 Setup 4: WhatsApp Url for direct access WhatsApp Agent through browser
Besides WhatsApp button on the contact form, customer can also look for WhatsApp agent through WhatsApp Url link. In fact, you could put such Url link under any button on your website. Such WhatsApp Url will distribute the customer chats to WhatsApp agents evenly. This WhatsApp Chat Room Url link can be found on the Chat Room settings here.