Business Revenue – InApp Payment

Business Revenue function empowers your agent to accept online payments from your clients instantly. The revenue will be deposited to your bank account directly without going through 2ConnectMe bank account. Secure receiving payment is guaranteed.
How You Get Paid
Your clients will pay you directly through 3rd party payment gateway vendor, STRIPE (https://www.stripe.com). Your revenue will be deposited to STRIPE account directly. Therefore, you need to have an account in STRIPE to save the revenue and then transfer the revenue to your own local bank account.
Agents Receive Payments
2ConnectMe empowers agents with two ways to receive payments, i.e. Manual Payment Request and Automatic Charges.
Manual Payment Request
Manual Payment Request allows agent to issue invoice to the client and lets client pay the invoice on the fly during the chat.
Process Flow of Manual Payment Request
The agent will be with "Credit Card" payment icon when the chat is established with client. Once the credit card button is pressed, an service Invoice pop up is shown for agent to fill in the service details and send to the client instantly.
Meanwhile, a payment request pop up with service details is displayed to your client. Once the client clicks the Pay Now button, it will go to STRIPE credit card payment processing.
Please take note the 2ConnectMe does not keep any confidential financial information, e.g. Credit Card information. It eliminates the risks of credit card information hacked.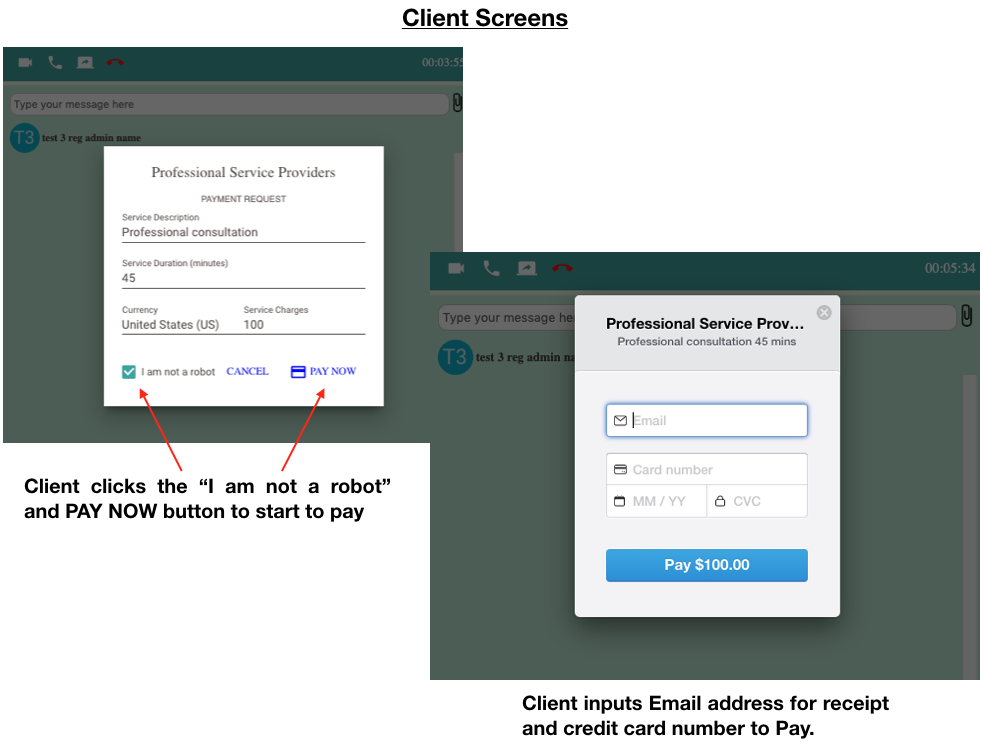 After the client makes the payment, agent will receive the receipt of such payment transaction as shown below. Lastly, agent should either start the Timer (SERVICE STARTS NOW button) or finish the Timer (SERVICE FINISHED) according to the progress of the service provision.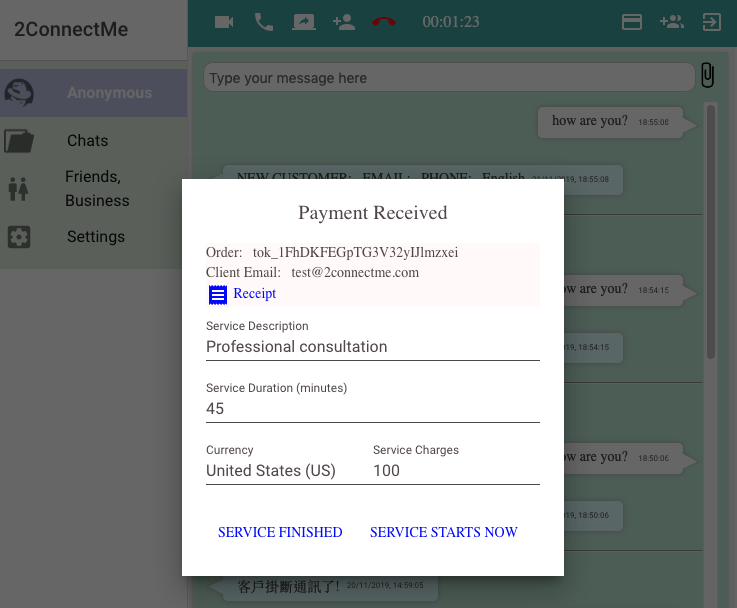 Automatic Charges
Automatic Charges lets 2ConnectMe to charge the client automatically according to the actual chat duration and pricing scheme of the chat rooms or agent's own pricing scheme for this own private chat room. Before the chats, it is mandatory for client to provide the credit card details for pre-authorisation of 2ConnectMe charging at later stage. The final charge is calculated at the end of chats.
Automatic Charges can guarantee agents will receive payments from clients as credit-card pre-authorisation of 2ConnectMe charges is granted by clients before connecting to agent. 2ConnectMe backend server will charge the client at the end of chat AUTOMATICALLY.
Process Flow of Automatic Charges (Client Side)
When the client fills in the details of contact form and click the chat buttons, the charging scheme and credit card pre-authorisation terms will be prompted for client to AGREE.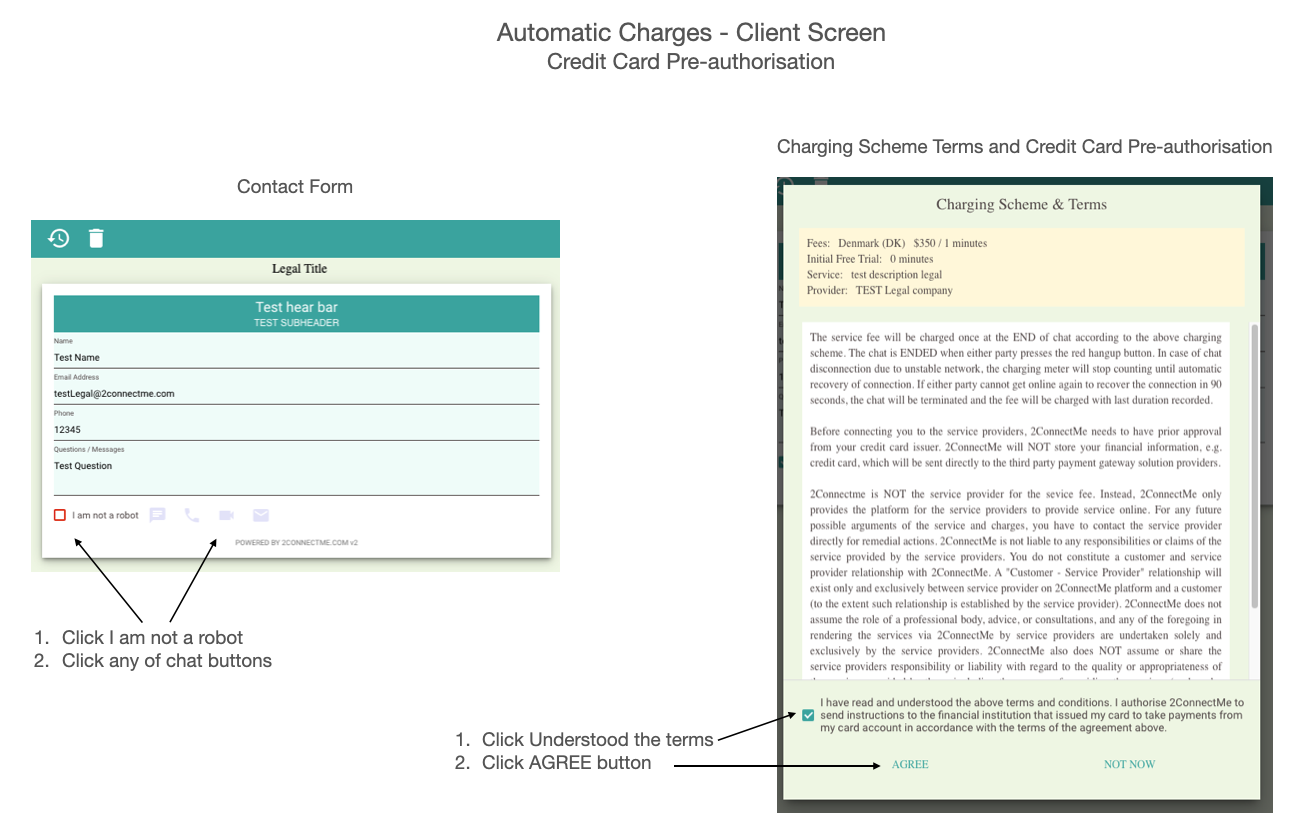 Then, client will have to enter the credit card details and 2ConnectMe will ask the credit card issuer to seek approval for charging customer later at the end of chats. With successful card verification, the client will be connected to a idle agent according to the chat room distribution settings.
After connecting to an agent, the client will be displayed on the phone with running Duration and Charges for this chat.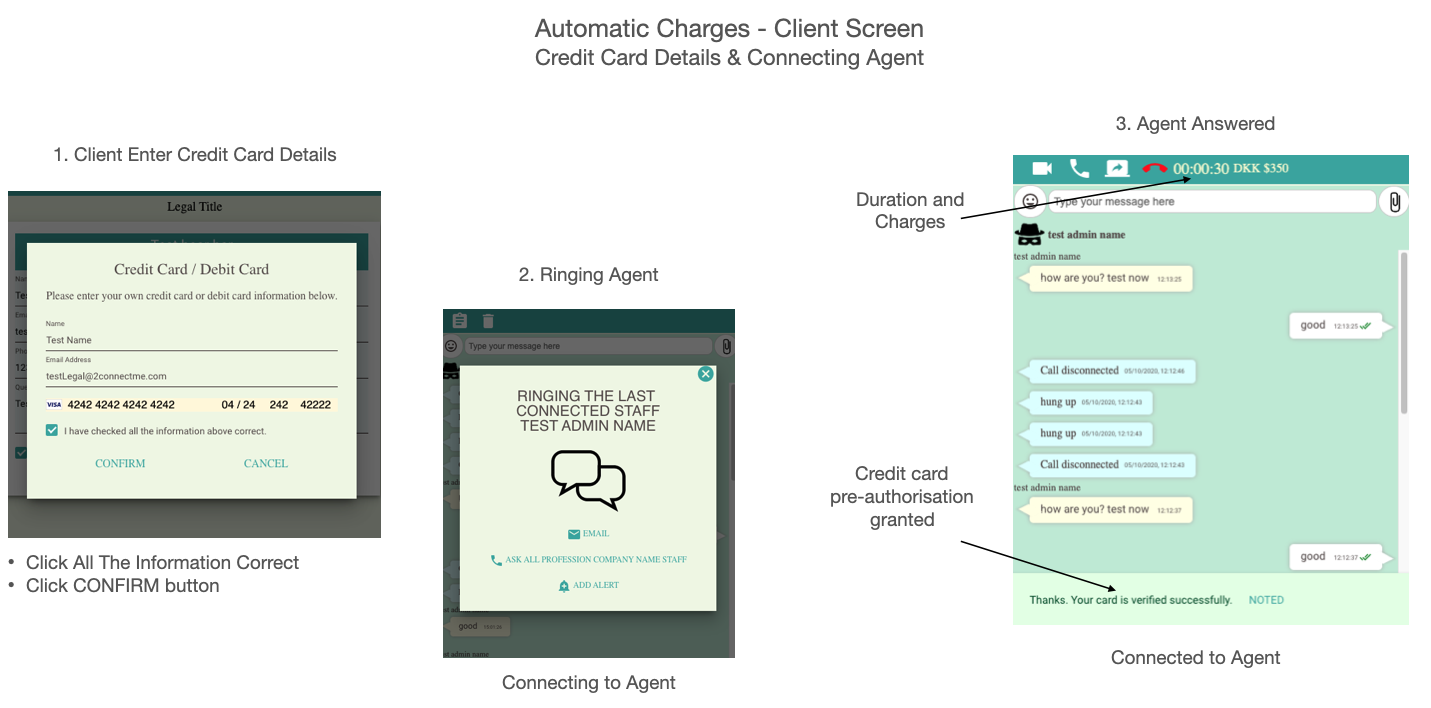 When client hangup the chat by pressing the red hangup button, 2ConnectMe will charge the client accordingly. Successful Payment will be prompted to client and receipt will also be sent to client email address entered at the beginning of chat.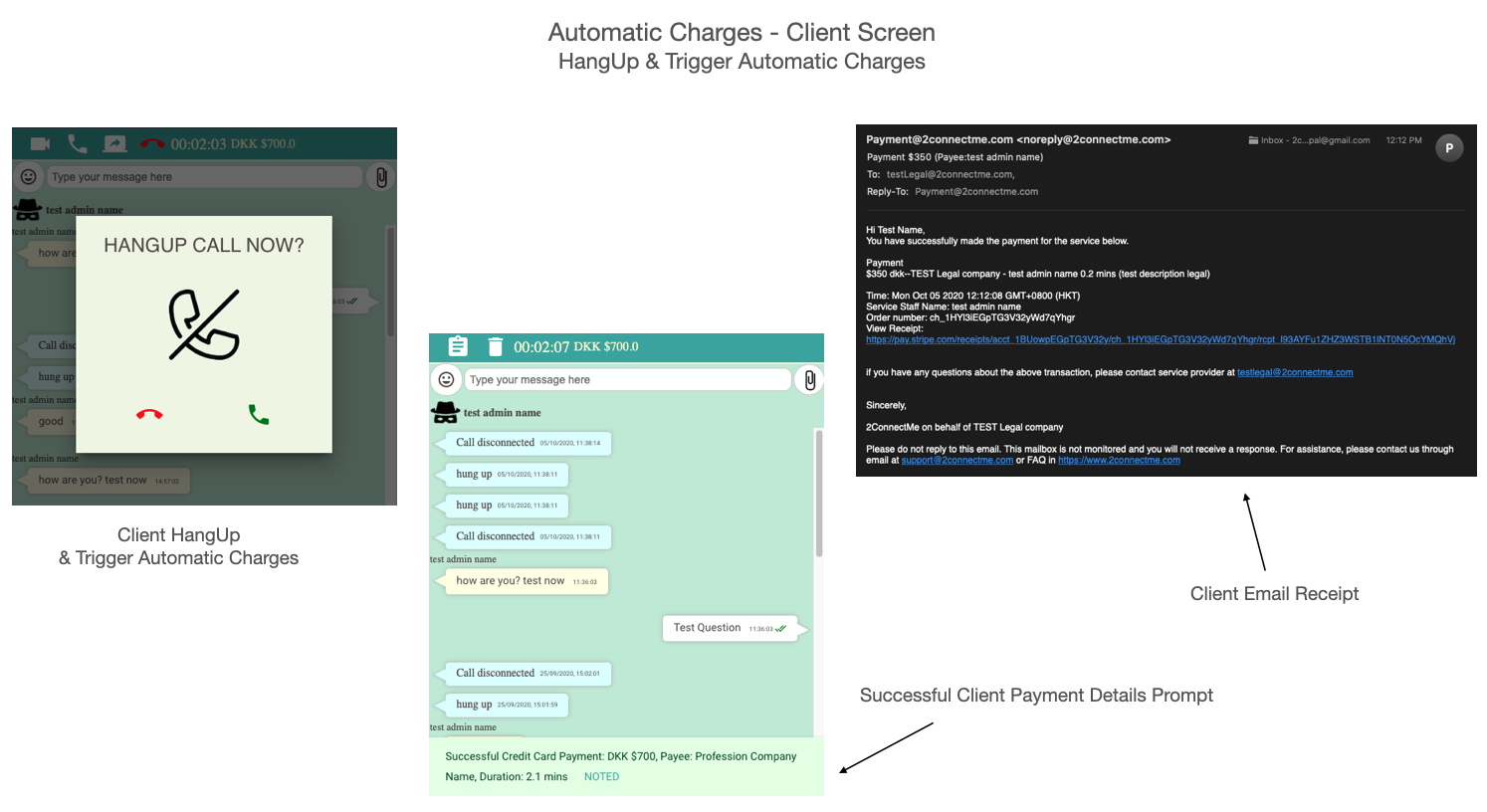 Process flow of Automatic Charges (Agent side)
After distributed with a new client, agent will be displayed with running Duration and Charges on the phone.
When agent or customer presses the red HangUp button, 2ConnectMe will charge the client automatically and the New Revenue details will be prompted to Agent together with an email regarding the charges details. The same revenue will also be shown in the "Business Revenue" menu option.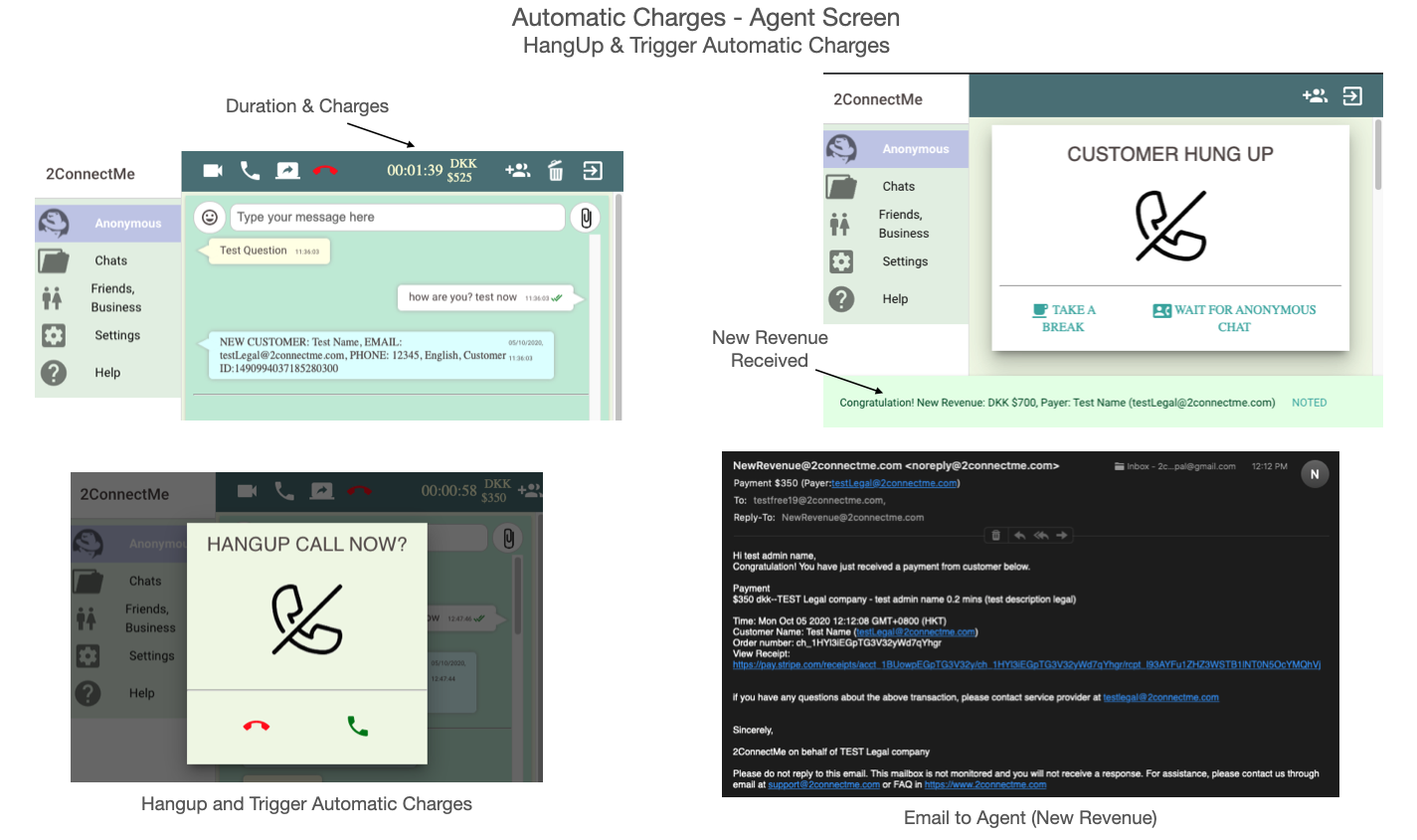 Taxi type Charging Meter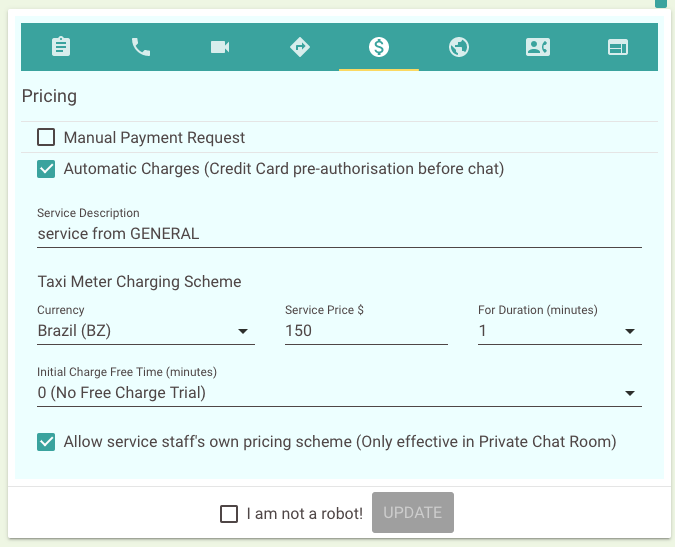 The above screen is a typical settings of Automatic Charges for chat room GENERAL in the Forever Free plan. It is a taxi meter like charging scheme. Initial minutes are provided for FREE. Then, it will charge for $ dollars for initial N minutes (minimum charges for initial N minutes). $ dollar will be charged even though the initial conversation is less than N minutes. After Nth minutes, it will charge at the flat rate $ dollars for N minutes pro-rata to the remaining duration of service provided.
The above settings, as an example, shows that the Automatic Charges is with Brazil $150 for 1 minute and NO FREE Trial minute. That means even the duration is less than 1 minute, it will customer 1 minutes, i.e. BZ$ 150, as a minimal charge. After 1 minute, the client will be charged according to the same rate pro rata and updated for every 30 seconds.
Please take note that
the charging meter will be updated for every 30 seconds. The meter starts to charge the customer when either party press the red hangup button. In case either party disconnects accidentally, e.g. due to network stability issues, for over 90 seconds without reconnection online again, 2ConnectMe backend server will still start to charge the customer automatically and both parties will be forced to terminated the chats.
During the disconnection period and before 90 seconds timeout, the charging meter will stop counting until both parties get reconnected again. However, due to some network delay and stability, it may take up to 30 seconds for local client to detect such network disconnection.
It is highly recommended you should provide some free minutes at the beginning of chats to avoid the situation where customer has not been familiar with the chat and hangup that chat for the first few seconds. Please bear in mind that there are charges incurred in refunding activities and you are responsible for such charges.
Again, 2ConnectMe will not store any customer financial information, e.g. credit card. The customer financial information will be sent to the 3rd party payment gateway solution provider, stripe.com. This eliminates the possibility of leakage of customer financial information from 2ConnectMe.
Advanced Handling of Network Disconnection and Duration Charges Calculation
When either network of client or agent is unstable to cause temporarily disconnection, the charging meter will stop counting. The charging meter will be resumed when both client and agent get online again. 2ConnectMe will not trigger to charge the client unless either client or agent presses the RED hangup button or disconnected offline for more than 90 seconds (timeout).
When agent or client is offline without reconnection online for more than 90 seconds, 2ConnectMe backend server will trigger to charge the client for the chats AUTOMATICALLY.
Special Handling of Client "Refreshing" button of browser while chatting with agents
Even if client accidentally hit the "Refresh" button of browser during chatting with agent, 2ConnectMe will reconnect this client to same agent to continue the chat automatically.
Tips of Handling Unstable Network during Chatting
While 2ConnectMe warns both parties if either of them is offline during chatting, agent and client need do nothing and just wait for other party to reconnect online again. There will be prompt to remind client and agent that the other party is offline and online again as screens illustrated below.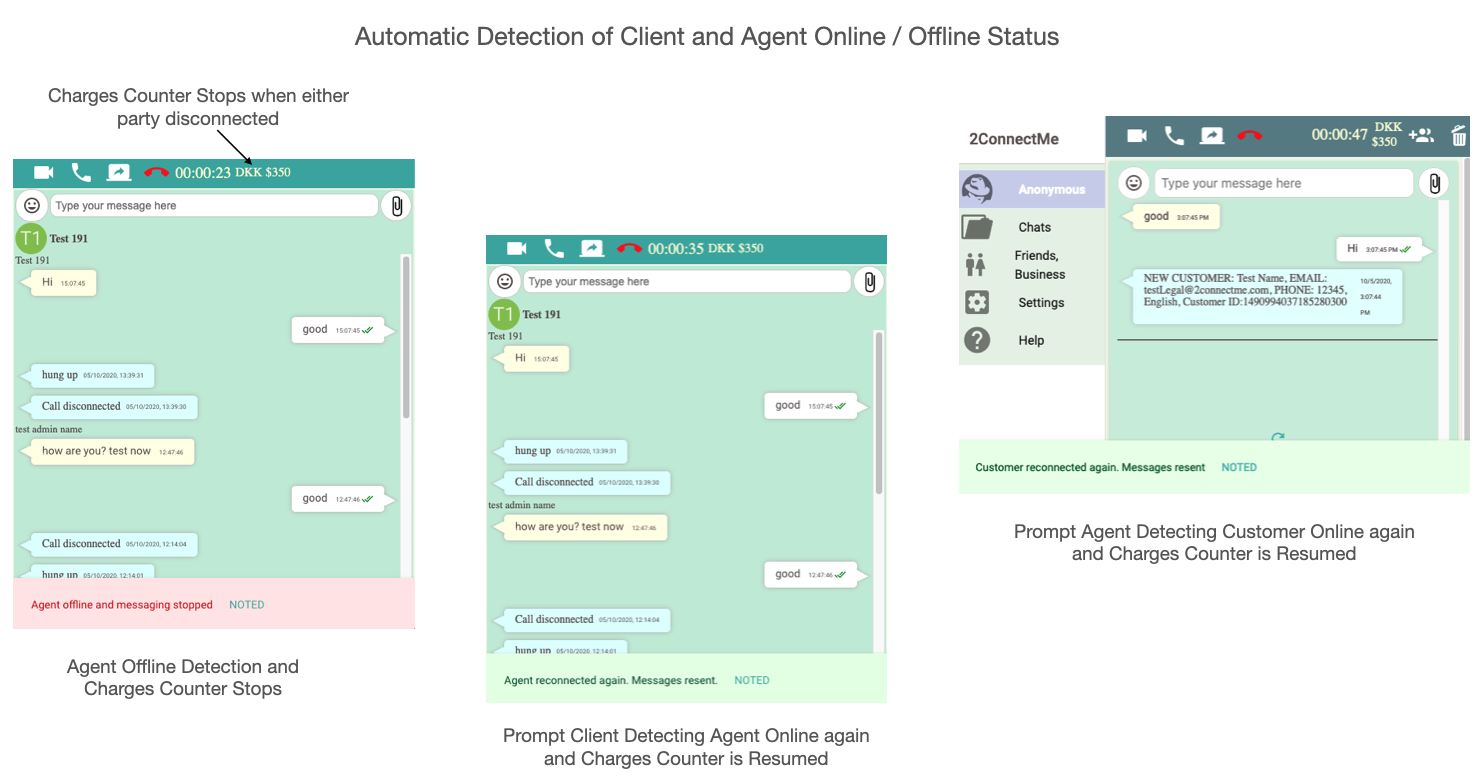 Business Revenue Balance
Any revenue earned will be shown immediately as screen shown below. Please click the refresh button to retrieve the latest transactions when needed.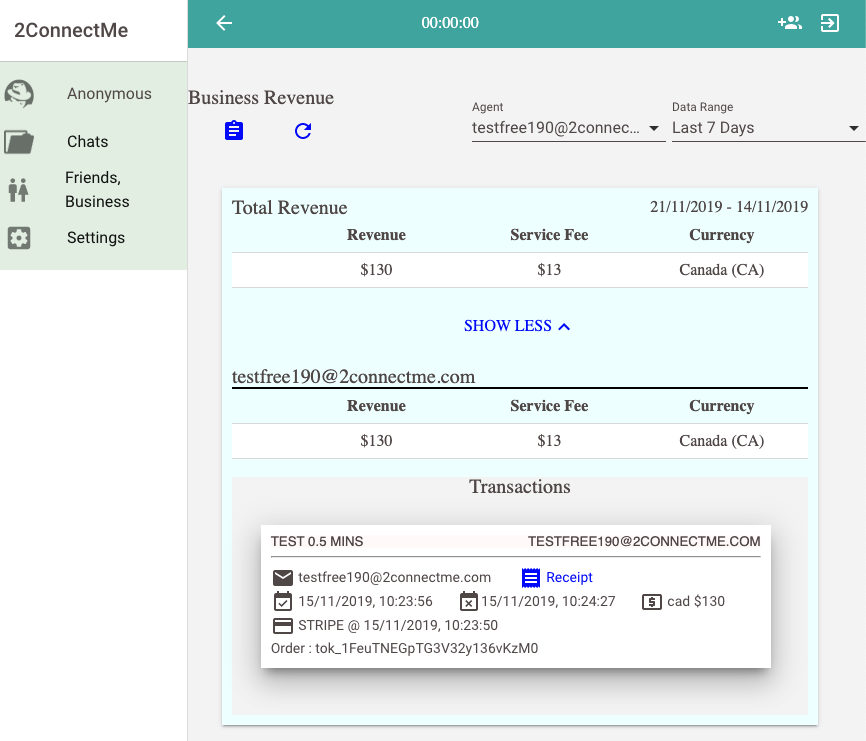 Pricing
Business Revenue function is available for all account types including Forever FREE tier account. 2ConnectMe will charge on every transactions you successfully made. Please take note that you are responsible for the service provided and the following fees and charges on your revenue:
If you use 2ConnectMe platform to provide online service, e.g. consultation, education tutorials, or training etc, 2ConnectMe will take 10% of the revenue paid by your clients as the fees to provide the 2ConnectMe platform to support your online service provision.
if you use 2ConnectMe platform to communicate with clients to facilitate the transactions of physical goods, commodities, 2ConnectMe will take 4% of the revenue paid by your clients as the fees to provide the 2ConnectMe platform to support your online transactions.
You are responsible for the STRIPE fees, the fees incurred in refunds, and chargebacks etc such as, but not limited to,

Stripe take 3% + 0.25C for credit card payment handling fees.
STRIPE charges a fee when transferring the revenue to your local bank account.
The STRIPE charges above are for reference only. Actual charges may vary in different countries. Please refer to https://www.stripe.com for the latest service fees.