Activation & Setup
Agree to Service Contract Agreement
Open a new account in STRIPE (3rd party vendor of payment gateway).
Validation of email address and mobile phone registered in STRIPE.
Enable agent to receive payments (Credit Card button available for new chats).
Enable Chat Room with Pricing (Manual Payment Request).
Enable Chat Room with Pricing (Automatic Charges).
Enable Agent Private Pricing scheme (Automatic Charges).
1. Service Contract Agreement
The activation involves consent to the 2ConnectMe Service Contract and opening an STRIPE account to link to 2ConnectMe. 2ConnectMe will then be able to handle the payment processing on your behalf.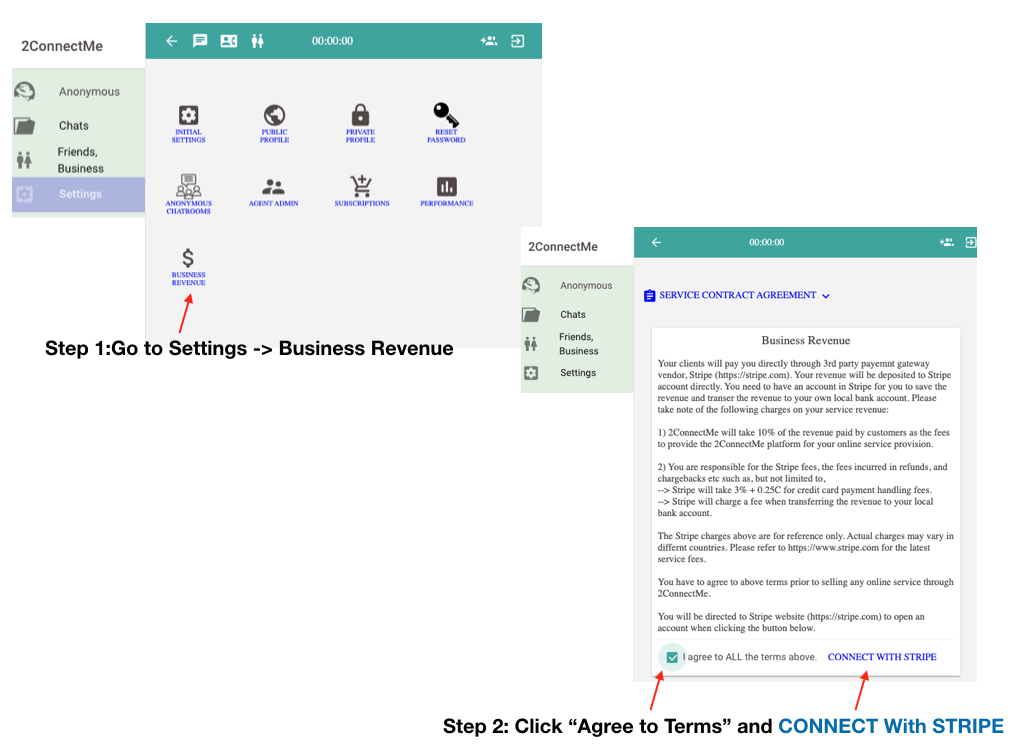 2. Open an Account in STRIPE
After clicking "CONNECT WITH STRIPE" button above, you will be directed to STRIPE website to open a new account as screen shown below. Please fill in the information to complete the registration of STRIPE.
Friendly reminder. STRIPE requires you to provide your own local bank account details. For initial opening account, you may just enter any information to pass this registration process. You may edit bank account information again in STRIPE admin panel afterwards when you have earned revenue to transfer to your own local bank account.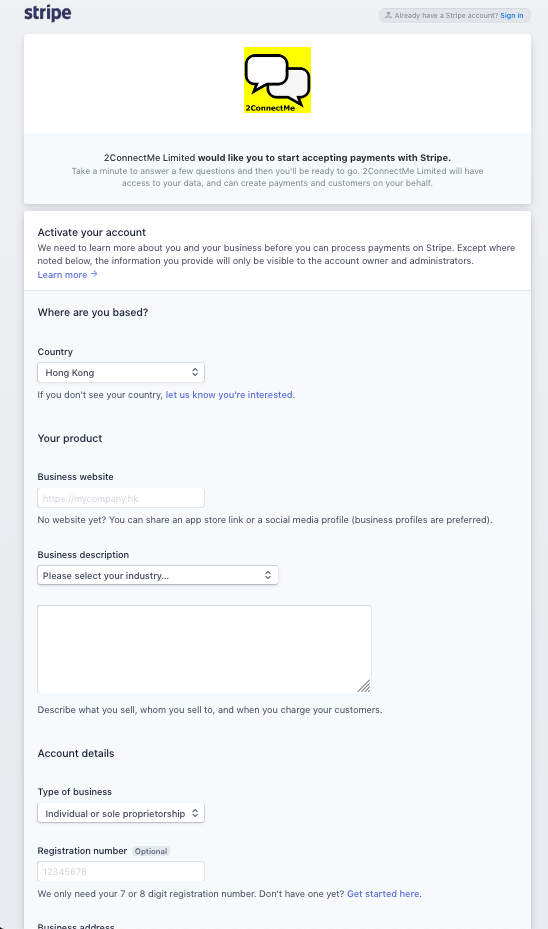 After successful opening an account in STRIPE, you will be directed back to 2ConnectMe Business Revenue. Just click the account status and it will show status LINKED WITH STRIPE successfully as indicated in the screen below.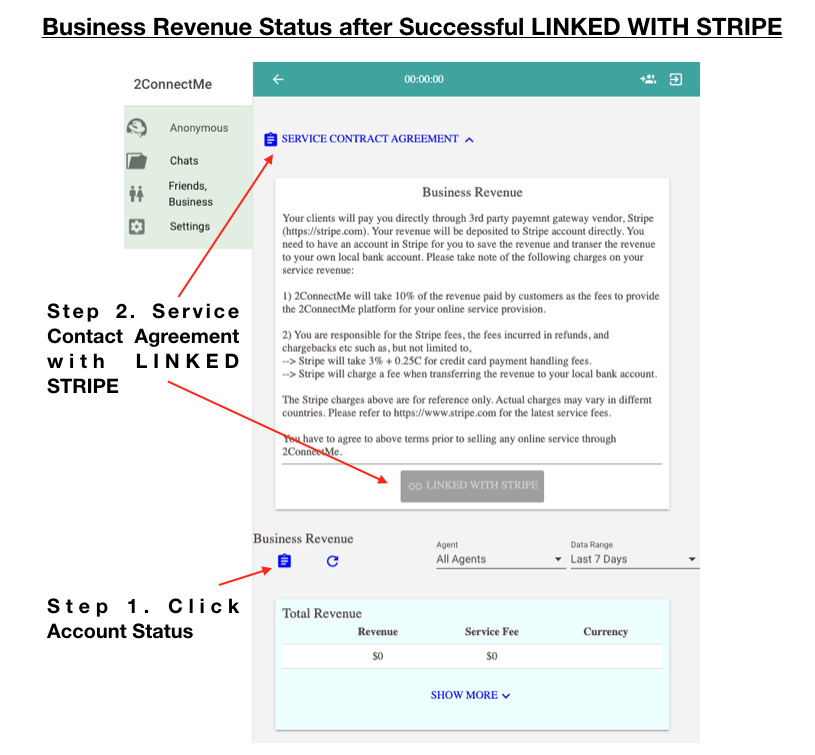 3. Validations on STRIPE account
STRIPE will also send you an email to confirm the registred email address and mobile phone number as shown below. Just click the button in the email to complete the STRIPE account email validation process.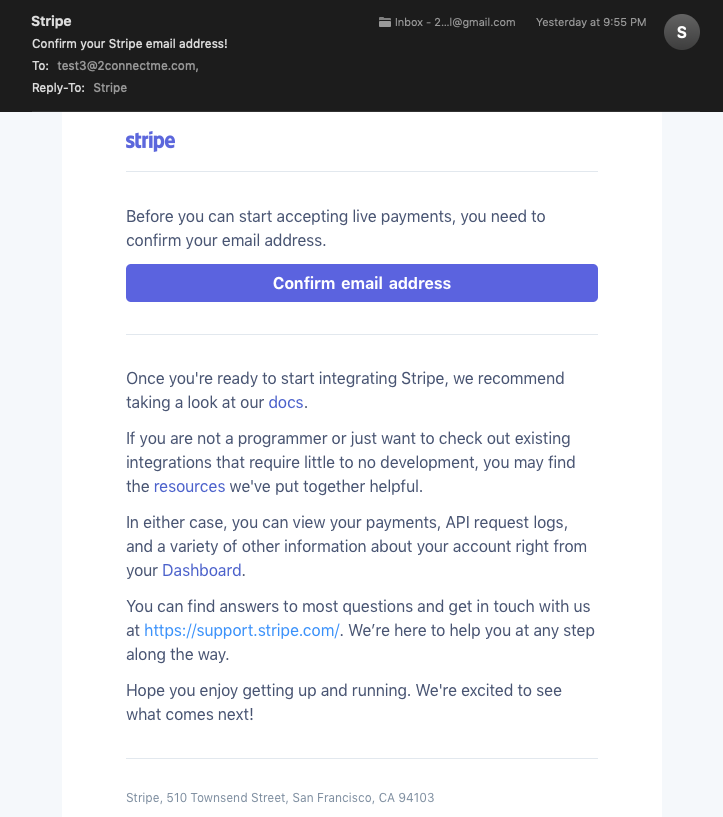 Congratulations! The finance account with STRIPE is completed. Next, you also need to enable those agents to allow them to receive the payment from clients.
4. Enable Agent Receiving Payments
Enabling agents to receive payment from your clients can only be configured by the 2ConnectMe account administrator, who is the first user to open the 2ConnectMe user account.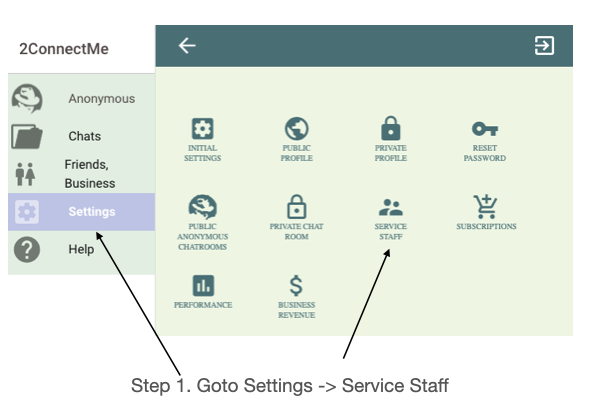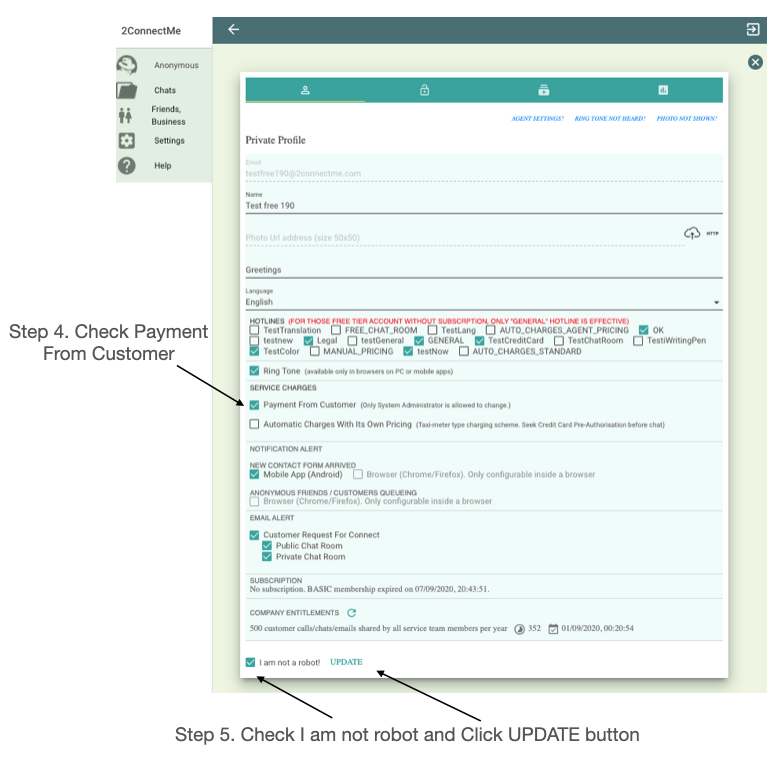 Congratulation! Your agents are ready for receiving the payment.
Enable Chat Room with Pricing (Manual Payment Request)
In addition to Agent enabled with Receiving Payment from Customer in the Agent Private Profile, each Chat Room is required to enable this Manual Payment Request settings as well. That means system administrator enable or disable Manual Payment Request for each of chat room by simple clicks on the Chat Room settings as shown below.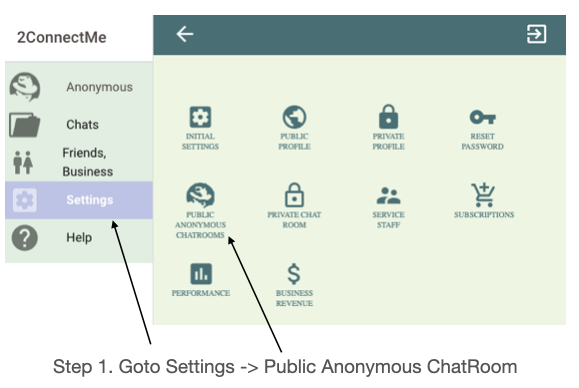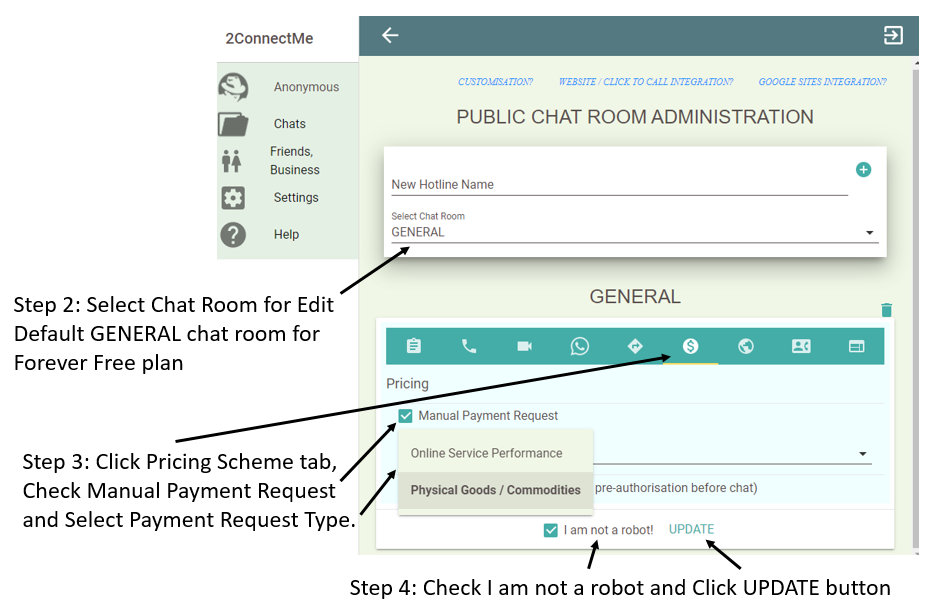 Enable Chat Room with Standard Pricing (Automatic Charges)
The Pricing for Automatic Charges can be setup for each of Chat Room, Standard Pricing. Meanwhile, it is also allowed to let agent to have his own pricing scheme in his own Agent Private Profile settings as shown below. Please be reminded that Agent Private Pricing is only effective for his own Private Chat Room.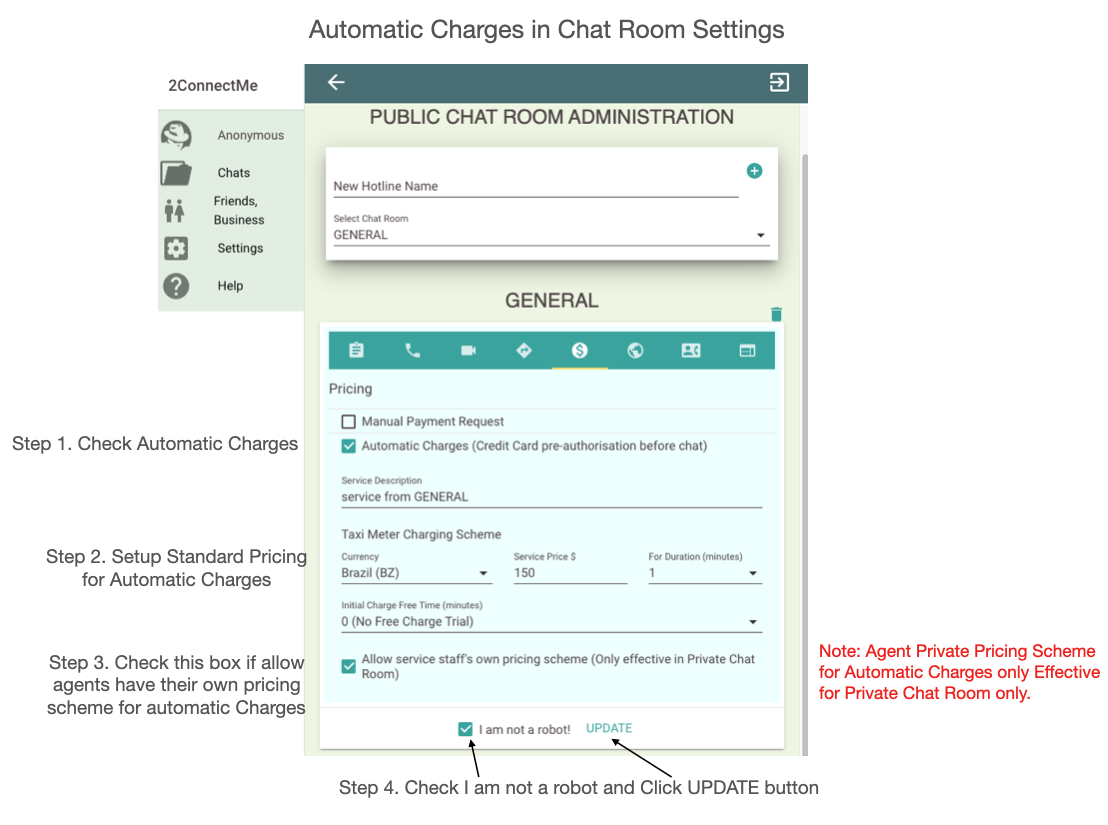 Enable Agent's own Private Pricing Scheme (Automatic Charges)
Automatic Charges settings in the Public Chat Room provide the standard pricing for the service to be provided by the Agents. If needed, agent is allowed to have his own taxi meter type pricing scheme for his own Private Chat Room. Such pricing is setup in the private profile of Agent. The following new section is added to agent private profile settings.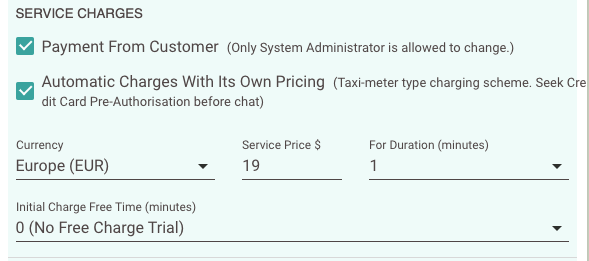 Meanwhile, for agents' own pricing scheme to be effective, it requires to enable such option in the public chat room beforehand as shown in the figure above).